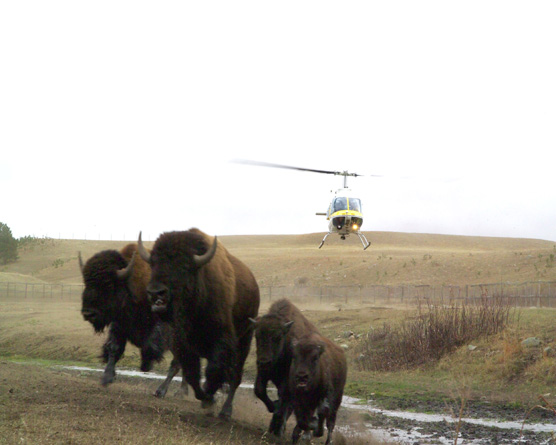 News Release Date:
October 17, 2006
Contact: Tom Farrell, Dan Roddy, (605) 745-4600
WIND CAVE NATIONAL PARK, S.D. – The sound of thundering hoofs, helicopter rotor blades, and clanging metal gates marked the beginning of Wind Cave National Park's annual bison roundup. Two helicopters working in tandem brought in 318 animals during the two-day roundup held on October 16 and 17. One hundred and thirty-three animals were culled from the herd to reduce the number down to the park's goal of 350 to 450 bison.
The majority of animals culled from the herd went to American Indian tribes on the Crow Creek (South Dakota), Fort Peck (Montana), and Ho-Chunk (Wisconsin) Reservations. The transfers of these animals were facilitated by the InterTribal Bison Cooperative (ITBC), a nonprofit organization located in Rapid City representing 57 member tribes. Also receiving animals were the American Prairie Foundation in Montana and The Nature Conservancy in South Dakota.
"The park holds a roundup annually to monitor the health of the herd and to manage herd size for available forage," said Superintendent Linda L. Stoll. "Sending animals to the American Prairie Foundation is a continuation of efforts begun last year to develop a satellite herd with our same genetic makeup. Through this partnership, should something happen to our herd, we could restart the park's herd using these genetically similar animals."
Park staff, assisted by Badlands National Park and the Biological Resources Management Division, processed the animals by testing each for brucellosis, implanting a microcomputer chip and metal ear tag, and recording the animal's size, weight, age, and height.
Samples of tail hairs from calves and untested yearlings and adults were also taken to monitor the herd's genetics. A recently completed study by Texas A & M into the genetics and health of ten federal herds found the herd at Wind Cave National Park to be the only disease free, genetically pure federal herd in the country.