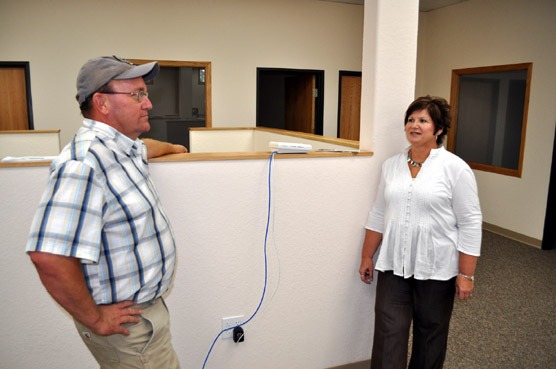 News Release Date:
September 7, 2011
Contact: Shirley Petersen, (402) 661-1648
OMAHA, Neb. — Seven National Park Service (NPS) employees will soon be moving into their new office in Hot Springs, S.D. Located in the former Movie Gallery video store on South Chicago Street, the office will house the NPS Midwest Region West Servicing Human Resources Office (SHRO).
After a recent realignment of human resource offices in the NPS, the number of offices nationwide was consolidated and reduced from 74 to 23.This reengineering will result in more efficient and improved services for the personnel needs of NPS employees.Wind Cave National Park was initially chosen to host the West SHRO office, which supports 18 parks in Nebraska, North and South Dakota, Minnesota, and Wisconsin.However, space at the park was insufficient to meet the needs of the new office, necessitating a move into town.
"We are pleased to have these positions stationed in Hot Springs," said Mayor Don De Vries. "Anytime we can fill in an empty building and have more people working in town is a plus for us."
The SHRO staff is responsible for processing employment-related actions and recruitment activities.However, the office is not designed to provide walk-in service for people seeking employment. Individuals interested in employment opportunities with the NPS or other Federal Agencies should visit www.usajobs.gov for listings and application information.
Staff at the new office will report to the Midwest Regional Office located in Omaha, Neb., and support 835 permanent employees and 530 seasonal employees in the five-state area.
Spitzer Construction won the bid to remodel the building. The West SHRO will lease the building through the General Service Administration and begin moving into their new office in early September.