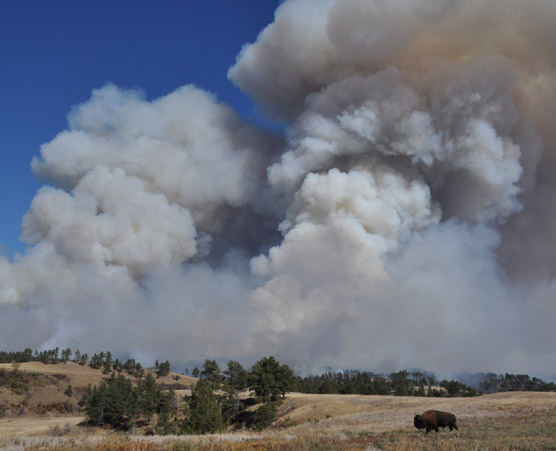 News Release Date:
October 21, 2010
Contact: Tom Farrell, 605-745-1130
Wind Cave National Park, S.D. - Over thirty-four hundred acres south of the Rankin Ridge Fire Tower were recently burned as part of a prescribed fire at Wind Cave National Park. Fire crews from multiple agencies began the ignition process for the American Elk Prescribed Burn by walking along the burn's perimeter with drip torches Wednesday, October 20.
Ground crews were assisted at times by a helicopter dropping small spheres similar to Ping-Pong balls which ignite from a chemical reaction and speed up the lighting process. By Thursday afternoon, ignition was complete and crews began pulling equipment and checking hot spots along the perimeter. Crews will monitor the burn until the fire is declared out, which could take a few weeks.
"We realize the smoke from the fire was heavy at times in the surrounding communities," said park superintendent Vidal Davila. "One visitor said he could see the smoke all the way from Lusk, Wyoming."
Smoke dispersal is one of the many weather factors considered before lighting a prescribed fire. If the forecast is for poor dispersal, the burn is postponed.
Davila continued, "This heavily forested area was a big concern for us. By burning it now, under these conditions, it reduces the chance of a catastrophic wildfire burning through the area."
Assisting with the burn were 103 firefighters from other National Park Service units, the Black Hills and Nebraska National Forests, Custer State Park, U.S. Fish and Wildlife Service, State of Colorado, and the Bureau of Indian Affairs at the Rosebud, Pine Ridge, and Standing Rock Reservations.
Highway 87 will reopen Saturday morning, October 23. The Rankin Ridge, Lookout Point, Centennial, Highland Creek, and Sanctuary Trails will remain closed for another week or so while mop-up activities continue. Pullouts along Highway 87 will also remain closed to allow room for fire equipment and vehicles.