Northern Great Plains Fire Management Staff Receives Midwest Regional Fuels Award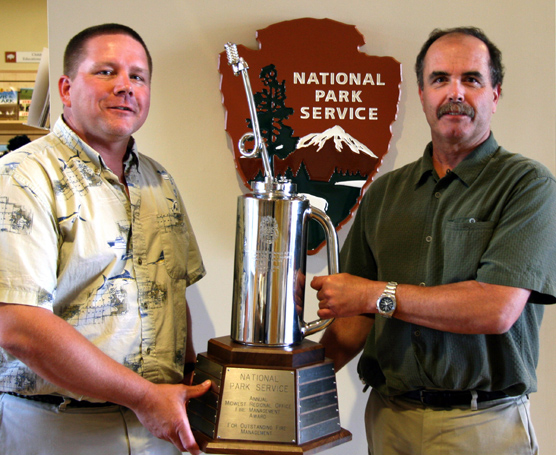 News Release Date:
July 24, 2007
Contact: Mike Johnson, 402- 661-1760
Contact: Tom Farrell, 605-745-4600
OMAHA, Neb.— The fire management staff of the Northern Great Plains Area Park Group, located at Wind Cave National Park in Hot Springs, South Dakota, is the winner of the 2007 Midwest Regional Fuels Award. This annual award is presented to the park unit or group that shows the greatest success in "Outstanding Fire Management Accomplishments." Nineteen of 54 parks in the 13-state National Park Service Midwest Region competed for the 2007 award.  
"This fire management program displayed excellent teamwork with parks and cooperators in the western part of the Midwest Region," said the Midwest Region Fire and Aviation Management Officer Doug Alexander. "The Northern Great Plains Area Park Group has a strong fire management program and is well deserving of this recognition."
The Fire Management staff of the Northern Great Plains Park Group is responsible for eight National Park Service units located in three states:  Wind Cave National Park, Mount Rushmore National Memorial, Jewel Cave National Monument, Badlands National Park, Devils Tower National Monument, Minuteman Missile National Historic Site, Agate Fossil Beds National Monument, and Scotts Bluff National Monument. The fuels and topography of each unit are different, but their location to each other within the region allows for effective resource sharing and collaboration from all the parks. 
In addition to collaboration and teamwork, the fire staff fills crucial roles as members of interagency incident management teams; as chair of the Northern Great Plains Interagency Coordination Center board of directors; and chair of the Operations Working Team for the Rocky Mountain Coordinating Group. Staff members also sit on numerous local committees and planning groups that are vital in helping shape fire management policy for the National Park Service.
Last updated: April 10, 2015