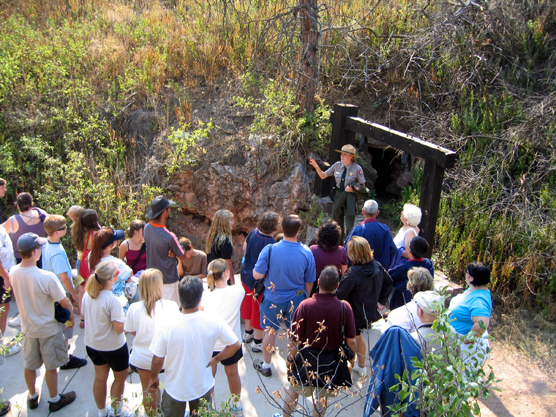 News Release Date:
September 14, 2006
Contact: Tom Farrell, 605-745-4600
WIND CAVE NATIONAL PARK, S.D. - All cave tours and programs at Wind Cave National Park will be free to the public on Saturday, September 30, in recognition of National Public Lands Day.  This event is inspired by the spirit of conservation shown by the Civilian Conservation Corps (CCC) in the 1930s.   In an endeavor to support the ideas of conservation, National Public Lands Day has become largest volunteer workday for public lands, and it provides an opportunity to engage and honor park volunteers.
 "We owe a great deal to our dedicated volunteers who last year contributed 12,390 hours to the park. Volunteers helped in a variety of ways including with our interpretive programs, cave exploration, and maintenance activities," said Park Superintendent Linda L. Stoll. "Anyone wishing to volunteer and help continue the legacy of the CCC is urged to call the park at 745-4600. This is an excellent opportunity to learn new skills or to share your expertise while preserving a world class park."
Cave tours lasting an hour and fifteen minutes will be offered every thirty minutes from 9 a.m. to 4:30 p.m. on September 30. Visitors will walk along the Natural Entrance Tour and view the boxwork for which the cave is world famous. This half-mile tour is moderately strenuous with approximately 300 stairs, most all of them going down. The cave temperature is 53 °F and a light coat or sweater is recommended.
The day will end with a ranger program listening for the sound of elk bugling. Beginning at 7 p.m. in the Elk Mountain Campground Amphitheater, a ranger will give a brief talk about elk then the group will drive to a pullout to listen for the elk's high-pitched bugle. Dress warmly and bring a flashlight.