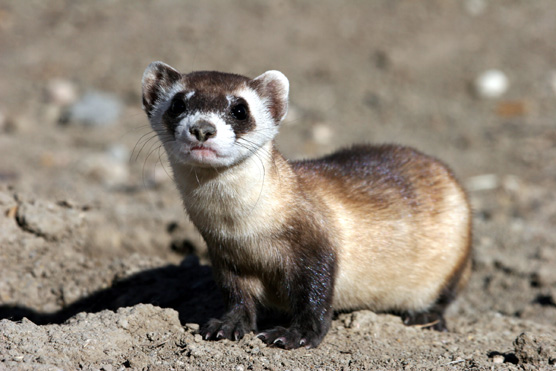 News Release Date:
December 20, 2006
Contact: Tom Farrell, 605-745-4600
WIND CAVE NATIONAL PARK, S.D. – Wind Cave National Park is extending the public comment period  on a draft environmental assessment (EA) written for the reintroduction of the endangered Black-footed ferret within park boundaries. The comment period, originally set to close in late December, has now been extended to January 26.
The park is proposing to reintroduce approximately 20 to 25 black-footed ferrets annually for the next three to five years. After reviewing comments, it became apparent that some people thought the ferrets would be reintroduced under a "nonessential experimental" designation at this time. Clarification was needed to reflect that if ferrets were reintroduced, their initial status would be endangered and authorized under a 10(a)(1)(A) scientific experimental/recovery permit issued under the Endangered Species Act. This permit allows experimental reintroductions to occur within park boundaries but provides mechanisms to ensure that private property interests outside the park are not impacted.   
"Private landowners would still be able to continue all lawful operations and activities including using registered rodenticides to control prairie dogs and hunting on private lands under incidental take exemptions authorized by the U.S. Fish and Wildlife Service," said park superintendent Linda L. Stoll. "The clarification is in the legal status of the ferrets."
The U.S. Fish and Wildlife Service is considering this reintroduction effort as an experiment to determine if ferrets can survive on such a small prairie dog population. The park's recently completed prairie dog management plan limits prairie dogs to between 1,000 and 3,000 acres within the park.
Stoll continued, "We wanted to extend the comment period to clear up any confusion. One of the reasons we seek comments on these draft plans is to be able to clarify information such as this before the plan becomes final."
For more information, and for an on-line copy of the EA, visit https://parkplanning.nps.gov/wica. Comments can be submitted via that website or they can be mailed to Superintendent; Wind Cave National Park; 26611 U.S. Highway 385; Hot Springs, SD 57747-9430. Printed copies of the EA are available for review at the Custer, Hot Springs, and Rapid City libraries and at the park visitor center.