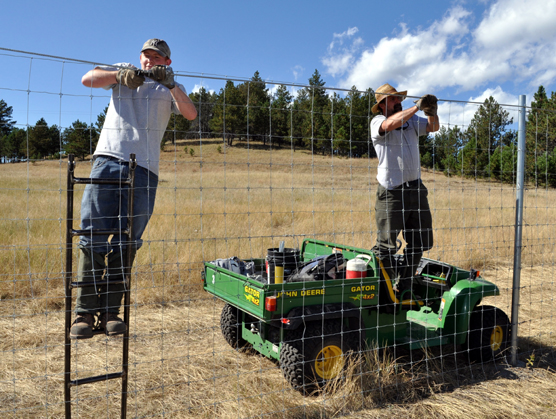 News Release Date:
September 30, 2010
Contact: Tom Farrell, 605-745-1130
Wind Cave National Park, S.D. – Phase One of a fencing project designed to keep elk out of Wind Cave National Park during the hunting season is nearing completion.
 The park's recently completed Elk Management Plan/ Environmental Impact Statement calls for upgrading sections of fence along the park's western boundary and installing adjustable gates to allow elk to leave the park in the spring and prevent their reentry until after the fall hunting seasons.
Phase One of the project included upgrading four and a half miles of fence and installing eight gates along the park's western boundary south of Highway 385. Work on Phase Two, upgrading fence and installing seven gates north of Highway 385, continues. 
"The gates and new fence will not be fully operational until next year," said park superintendent Vidal Davila. "We knew it would take most of the summer and fall to complete the project. The gates will remain down until we can fully implement the plan next summer." 
The Elk Management Plan calls for a population range of 232 to 475 elk in the park. Last winter's elk population was estimated around 900. Many of the elk that winter in the park leave in the spring. This plan would allow elk to naturally leave the park when the gates are down. The gates would then be raised prior to the hunting season to allow hunters outside the park, as part of regular hunts administered by South Dakota Game, Fish and Parks, to reduce the number of elk using the park.