Wind Cave National Park to Reintroduce Black-footed Ferrets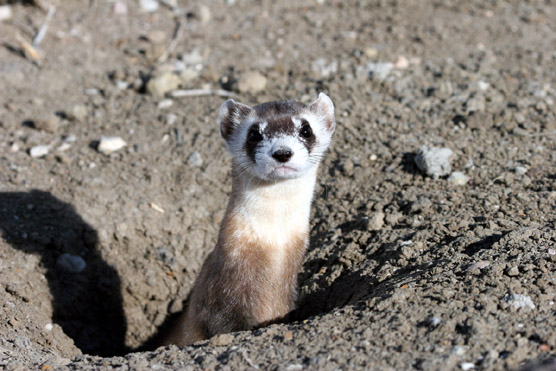 News Release Date:
April 13, 2007
Contact: Tom Farrell, 605-745-4600
WIND CAVE NATIONAL PARK, S.D. – One of the rarest animals in North America is returning to Wind Cave National Park. The National Park Service Deputy Regional Director David Given recently signed the Finding of No Significant Impact (FONSI) for an environmental assessment written to reintroduce the black-footed ferret into Wind Cave National Park. 
"This summer marks the thirtieth anniversary of the last sighting of a black-footed ferret in Wind Cave National Park," said Acting Superintendent Tom Farrell. "This reintroduction effort will not only restore a missing species to our mixed-grass prairie, but the ferrets will also help in the management of our prairie dog population."
The park is planning to reintroduce approximately 20 to 25 black-footed ferrets annually for the next three to five years under a 10(a)(1)(A) scientific experimental/recovery permit issued under the Endangered Species Act. This permit allows experimental reintroductions to occur within park boundaries and provides mechanisms to ensure that private property interests outside the park are not impacted.
Management actions used to reintroduce ferrets and manage the prairie dog population will be consistent with the park's recently completed prairie dog management plan that limits prairie dogs to a range of 1,000 to 3,000 acres within the park.
Copies of the FONSI and environmental assessment are available at the Hot Springs, Custer, and Rapid City libraries, at the Wind Cave Visitor Center, or on-line at https://parkplanning.nps.gov/wica.
Last updated: April 10, 2015