Wind Cave National Park Completes Annual Bison Roundup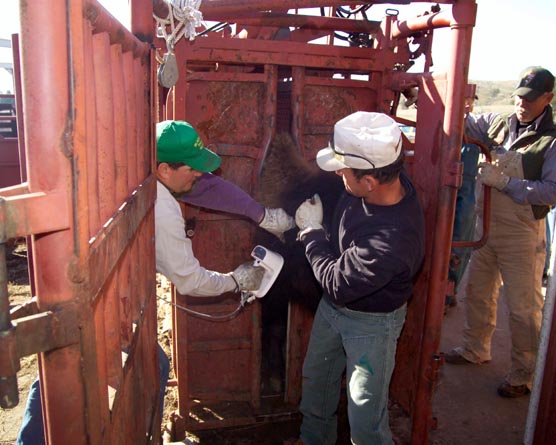 News Release Date:
October 18, 2007
Contact: Tom Farrell, 605-745-4600
WIND CAVE NATIONAL PARK, S.D. – Eighty-seven bison are on their way to new homes as a result of Wind Cave National Park's annual bison roundup. These animals, highly sought after due to their genetic integrity, will become part of herds in Oklahoma, Montana, and South Dakota. A total of 220 bison were rounded up on Monday, October 15, using two helicopters from Nevada.
The majority of animals shipped out went to the Cheyenne-Arapaho Tribes of Oklahoma. The InterTribal Bison Cooperative (ITBC), a nonprofit organization located in Rapid City representing 57 member tribes, facilitated the transfers of these animals. Also receiving animals were the American Prairie Foundation in Montana and The Nature Conservancy in South Dakota.
"We are pleased to continue our partnership with the American Prairie Foundation and The Nature Conservancy. These organizations are developing satellite herds containing our bison's genetics. Should something happen to the park's herd, we could call on them to help us restore our herd," said park superintendent Vidal Davila. "We are also sending animals to the Cheyenne-Arapaho Tribes of Oklahoma which will enable them to add to their existing herd."
Park staff, assisted by Badlands National Park and the National Park Service Biological Resources Management Division in Fort Collins, Colorado, processed the animals by testing each for brucellosis, implanting a microcomputer chip and metal ear tag, and recording the animal's size, weight, age, and height.
Samples of tail hairs from calves, untested yearlings, and adults were also taken to monitor the herd's genetics. A study by Texas A & M University into the genetics and health of ten federal herds found the herd at Wind Cave National Park to be the only disease-free federal herd with no detectable cattle genes in the country. 
Last updated: April 10, 2015