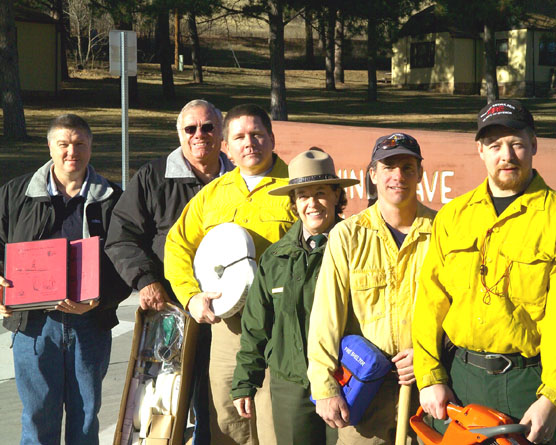 News Release Date:
December 14, 2006
Contact: Tom Farrell, 605-745-4600
WIND CAVE NATIONAL PARK, S.D. – Six area volunteer fire departments recently received grants totaling nearly $52,000 from Wind Cave National Park as part of the Rural Fire Assistance Program. Receiving grants were the Argyle, Cascade, Hermosa, Highlands, Hot Springs, and Pringle Volunteer Fire Departments. This program is designed to enhance wildland fire protection capabilities near Department of the Interior lands.
"We definitely appreciate this grant money. With it, we were able to buy equipment for firefighter safety and improve the training we offer," said Bob Engebretson, Chief of the Hot Springs Volunteer Fire Department. "We hope this program continues. For departments such as ours, we can make the money go a long ways."
These were 90/10 cost share grants meaning the National Park Service provided 90% of the funding and fire departments matched it with a 10% in-kind donation. Most of the departments purchased equipment for training, personal protective equipment, or radios.
"We are pleased to be able to support the efforts of these departments," said park superintendent Linda L. Stoll. "Firefighter safety is our number one priority on wildfires, and this funding will greatly enhance the safety of firefighters that work in and around our park."
The program is designed to increase firefighter safety and improve the wildland fire protection capabilities of rural fire departments. This is achieved by assisting those departments in meeting or exceeding accepted standards of wildland fire qualifications, training, and performance. Emphasis is placed on departments that protect rural communities and play a substantial cooperative role in the protection of Federal lands such as Wind Cave National Park.
For information about this year's grant application process, contact Engine Module Supervisor Jason Devcich at (605) 745-1166.