Wind Cave National Park Sees Increase in Bison Deaths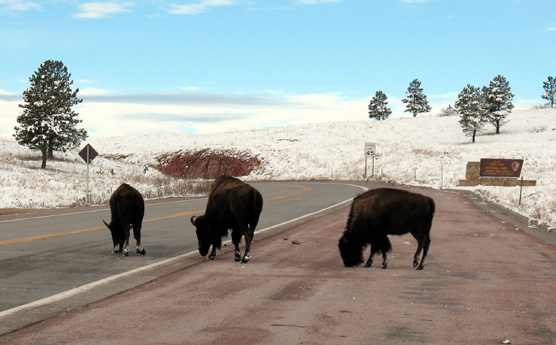 News Release Date:
December 18, 2013
Contact: Tom Farrell, 605-745-1130
WIND CAVE NATIONAL PARK, S.D. – At least six bison have been killed in 3 motor vehicle collisions at Wind Cave National Park since October. Fourteen bison have been confirmed killed from accidents this year. As a result of these accidents, the park is stepping up patrols, working on better signage, and hazing animals away from the roads.
"In a typical year, we average 3 bison killed. Six in just 3 months is an alarming amount," said park superintendent Vidal Davila. "We're concerned about the safety of our travelers. We don't want people to get hurt. Sometimes just driving the speed limit is too fast for bad weather conditions."
Bison and other large animals such as elk are drawn to the roads by salt used to melt snow and ice during winter storms. The park doesn't salt their roads, but salt is carried into the park by vehicles from outside the park. Clumps of snow and ice, containing salt, are frequently shaken loose while vehicles travel through the park or when vehicles rattle across cattle guards at park boundaries. The animals recently killed were near the park's southern entrance when hit.
Davila said, "Bison licking salt on roads during or after a winter storm, especially at night, can be nearly impossible to see. It is hard to imagine an invisible 2,000 pound animal, but with their brown hair they just blend into the darkness."
The park will seek restitution for each animal killed if the driver is found to be negligent due to factors such as speed or driving under the influence.
Wind Cave National Park attempted to donate meat from the animals recently killed to a local food pantry, but state regulations do not allow for road-killed bison to be donated. The bison carcasses instead provided food for the park's many predators.
There are approximately 500 bison in the park. This year is the one-hundredth anniversary of the reintroduction of the bison to Wind Cave National Park.
Last updated: April 10, 2015