Bison, the U.S. National Mammal, Celebrated at Wind Cave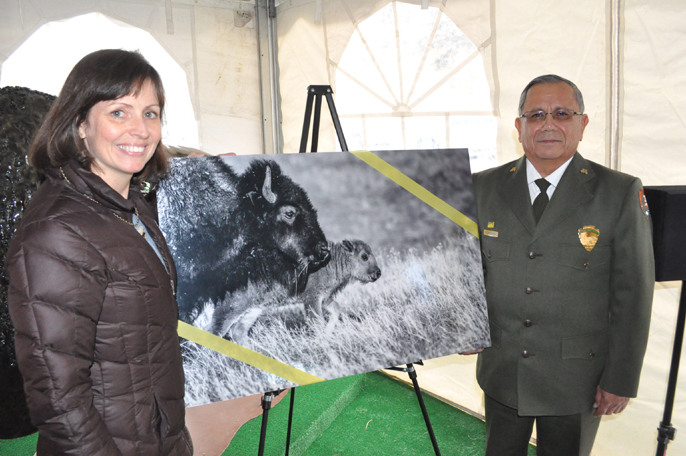 News Release Date:
November 3, 2016
Contact: Tom Farrell, 605-745-1130
WIND CAVE NATIONAL PARK, SD – It was a long time coming, but staff at Wind Cave National Park were recently able to thank the Wildlife Conservation Society, which runs the Bronx Zoo, for the 14 bison the zoo sent to the park in 1913 that started the park's bison herd.
The occasion was a ceremony recognizing the bison as the U.S. National Mammal. Last May President Obama signed into law the National Bison Legacy Act adopting bison as the National Mammal of the United States for its iconic nature. The bison stands as a symbol of unity, resilience and healthy landscapes and communities.
"We were proud to be able to host this significant event," said park Superintendent Vidal Dávila. "The bison played, and continues to play, a critical role in our country's history and culture. The animals we received 103 years ago from the Bronx Zoo helped save the bison from extinction. Their descendants started or augmented herds in 16 states and the country of Mexico. "
Speakers at the event included Congresswoman Kristi Noem, a lead co-sponsor for the legislation; Kelly Keenan Aylward, Washington Office Director, Wildlife Conservation Society (WCS); Jim Stone, Executive Director, InterTribal Buffalo Council; and Bruce Anderson, Western Buffalo - Past President National Bison Association.
Harold Salway, Executive Director, Oglala Sioux Parks & Recreation Authority, said the opening prayer and he and his son Tyrel then sang the Flag Song in Lakota. The Hot Springs High School Bison Band provided patriotic music for the event. The Black Hills Parks and Forest Association organized and funded the gift of a photo of Wind Cave bison signed by photographer Jeffrey L. Hickok to the WCS. The Association also provided light refreshments.
"In this Centennial year of the National Park Service, WCS and the American Bison Coalition want to commemorate our new U.S. National Mammal at a park with a strong historical connection to the Bronx Zoo's efforts to repopulate bison on the Great Plains and raise the visibility of Wind Cave's bison herd, which today supplies bison to so many tribes, conservation organizations, and public lands," said Kelly Keenan Aylward, WCS Washington Office Director.
Bison from the park are highly sought after because there is no evidence of cattle genes in their DNA. The 14 bison the park received in 1913 were not mixed with cattle, creating a unique genetic makeup that closely parallels those animals that once roamed the Great Plains in the millions hundreds of years ago.
"This coming Saturday, November 5, is National Bison Day. We invite people in the area to visit the park and spend time enjoying this great weather we're having while watching our bison herd," Dávila said.
Last updated: February 13, 2017