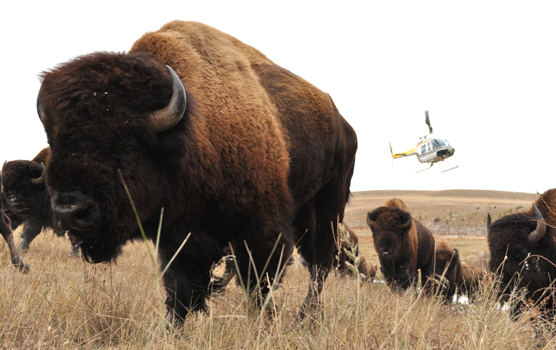 News Release Date:
October 29, 2009
Contact: Tom Farrell, 605-745-4600
WIND CAVE NATIONAL PARK, S.D. – Twenty-three bison from the mixed-grass prairie of Wind Cave National Park will soon be on their way to the high desert of Mexico. The bison are part of a cooperative effort between the two countries to restore bison to their historical range in Mexico. The animals were brought in during the park's annual bison roundup.
Over a 2-day period, helicopters brought in 277 bison. Ninety-six of these animals will be shipped out of the park. The bison going to Mexico will be relocated to the Rancho El Uno, a 44,000 acre reserve administered by The Nature Conservancy – Mexico, in the northern Janos Valley in the State of Chihuahua. The bison are expected to arrive in Mexico November 3.
"It's a great day for the conservation world. This project will help conserve bison to a greater degree by having another satellite herd in Mexico, where bison are classified as an endangered wildlife species," said park superintendent Vidal Davila. "Wind Cave's herd is ideal for reintroduction efforts because of its genetic diversity and lack of domestic cattle gene introgression."
The majority of animals removed from the herd went to the Fort Peck Tribes in Montana, the Spirit Lake Tribe in North Dakota, and the Standing Rock Sioux Tribe located in North and South Dakota. The InterTribal Bison Cooperative (ITBC), a nonprofit organization located in Rapid City representing 57 member tribes, facilitated the transfers of these animals.
The park has also been working with The Nature Conservancy for several years to start satellite herds in areas they administer. Receiving animals this year were the Broken Kettle Grasslands in Iowa and theTallgrass Prairie National Preserve in Kansas, which is administered in partnership with the National Park Service and the Kansas Park Trust.
The roundup was completed by park staff with assistance from the National Park Service Biological Resources Management Division in Fort Collins, Colorado, two veterinarians from the Animal and Plant Health Inspection Service (APHIS), and local veterinarians. Each animal was tested for brucellosis, implanted with a microcomputer chip and metal ear tag if needed, and had its size, weight, age, and height recorded. Samples of tail hairs from calves, untested yearlings, and adults were also taken to monitor the herd's genetics.
A study by Texas A & M University into the genetics and health of ten federal herds found the herd at Wind Cave National Park to be the only disease-free federal herd with no detectable cattle genes in the country.