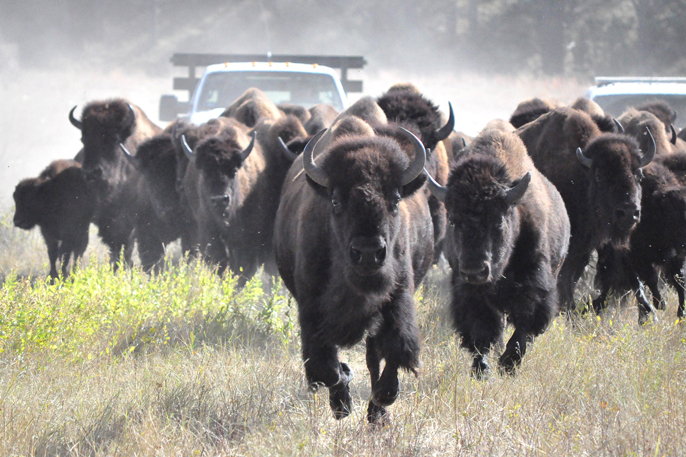 News Release Date:
October 22, 2015
Contact: Tom Farrell, 605-745-1130
WIND CAVE NATIONAL PARK, S.D. –Seventy-five bison are on their way to new homes across the Midwest as part of an agreement with The Nature Conservancy (TNC) to form conservation, or satellite, herds with bison from Wind Cave National Park. The Wind Cave herd is known for its brucellosis free status, high levels of genetic diversity, and lack of cattle gene introgression.
"This partnership allows for the continued preservation and growth of a unique bison herd with the assistance of The Nature Conservancy," said Park Superintendent Vidal Dávila. "These satellite herds will help preserve the bison's rare genetics and allow people as far away as the Chicago area to learn about this iconic symbol of the American west."
TNC is using these bison to augment existing herds in preserves in Missouri, Iowa, Kansas, and Illinois. Animals from Wind Cave National Park were introduced last year at Nachusa Grasslands, Illinois, a hundred miles outside of Chicago.
"Scientists say about 1,000 bison are needed to maintain a herd's genetic diversity," said Corissa Krueger, the Conservancy's Western South Dakota Conservation Manager. "We're excited to work with the National Park Service to help accomplish this goal by introducing bison derived from the Wind Cave herd across the Great Plains."
Two hundred and seventy animals were brought in with the assistance of horseback riders from Custer State Park. Each animal's height, weight, sex, and age were recorded. Small microchips, the size of a grain of rice and the same as those used to identify dogs and cats, were implanted in any animals lacking them. These microchips, along with ear tags, could be used for future identification. Genetic samples from calves and yearlings were taken to continue monitoring the genetics' of the herd.
Currently there are an estimated 400 bison remaining in the park.