Wind Cave Celebrates Bison Designation as the National Mammal Tuesday, November 1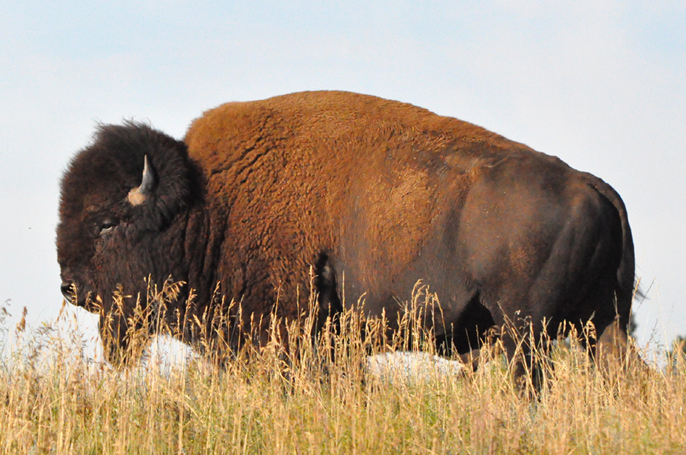 News Release Date:
October 19, 2016
Contact: Tom Farrell, 605-745-1130
WIND CAVE NATIONAL PARK, SD – Speakers, music, and light refreshments on Tuesday, November 1, mark Wind Cave National Park's celebration of the designation of the bison as the National Mammal. The event kicks off at 2:30 p.m. on the Wind Cave National Park Visitor Center front lawn. The keynote speaker is Congresswoman Kristi Noem, lead co-sponsor for the National Bison Legacy Act, which President Obama signed into law earlier this year.
"We are pleased to be hosting this event honoring the naming of the North American bison as the official National Mammal of the United States," said Park Superintendent Vidal Dávila. "Bison nearly went extinct in the late 1800s, and their survival is one of the country's greatest conservation success stories. The 450 bison we have in the park are descendants of those early animals."
Other speakers include representatives of the National Park Service, the Wildlife Conservation Society (WCS), InterTribal Buffalo Council, and National Bison Association.
"This celebration at Wind Cave National Park is especially meaningful for the Wildlife Conservation Society, since the Wind Cave herd descends from bison sent west from our Bronx Zoo to repopulate the park in the early 1900s," said John Calvelli, WCS Executive Vice President of Public Affairs. "As our new National Mammal, we are happy to celebrate this American symbol of unity, resilience and healthy landscapes and communities."

The Hot Springs High School Bison Band will play the National Anthem and a Lakota drum group will perform the Flag Song. Fourth graders from Hot Springs will attend the ceremony and receive their Fourth Grade "Every Kid in a Park" Pass allowing free entrance to any Federal land agency site requiring an entrance fee.

The National Park Service along with the Wildlife Conservation Society, National Bison Association, and the Black Hills Parks and Forest Association, are sponsoring the event.

Last updated: October 20, 2016