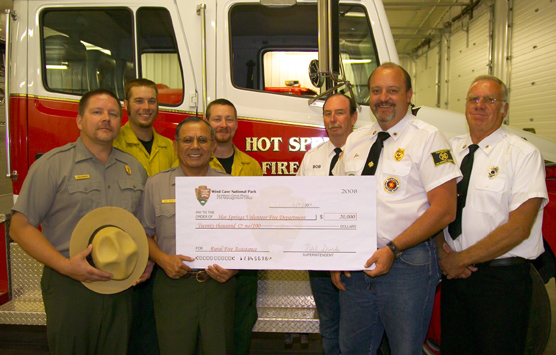 News Release Date:
October 9, 2008
Contact: Tom Farrell, 605-745-4600
WIND CAVE NATIONAL PARK, S.D. – Firefighters with the Hot Springs Volunteer Fire Department will have improved communications during fires thanks to a Rural Fire Assistance Program grant of $20,000 received from Wind Cave National Park. This program was created to enhance wildland fire protection capabilities near Department of the Interior lands.
"This grant will provide funding to purchase radios so we can communicate with other government entities, fire departments, and law enforcement agencies," said Jim Stevens, Chief of the Hot Springs Volunteer Fire Department, Incorporated. "This is a great example of the partnerships needed between local and federal agencies to fight fires in areas where few boundaries exist between forests and towns."
This was a 90/10 cost share grant. The National Park Service provided 90% of the funding and the fire department matched it with a 10% in-kind donation.
"This volunteer department has a long history of working with the park on mutual operations," said park superintendent Vidal Davila. "With many park employees living in Hot Springs, we are pleased to provide a twenty-thousand dollar grant to support the department's efforts to respond to fires either in town or out at Wind Cave National Park."
This program was created to increase firefighter safety and enhance the wildland fire protection capabilities of rural fire departments. This is achieved by assisting those departments in meeting or exceeding accepted standards of wildland fire qualifications, training, and performance. Emphasis is placed on departments that protect rural communities and play a substantial cooperative role in the protection of Federal lands such as Wind Cave National Park.
For information about this year's grant application process, contact Engine Module Supervisor Jason Devcich at (605) 745-1166.