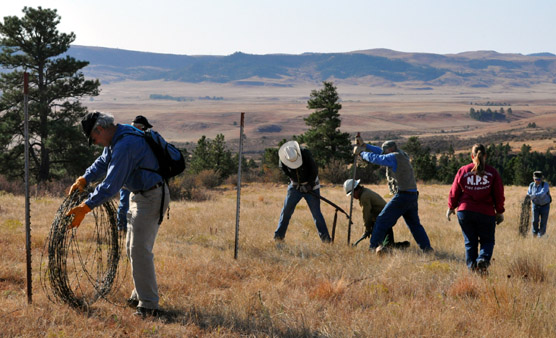 News Release Date:
October 3, 2012
Contact: Tom Farrell, 605-745-1130
WIND CAVE NATIONAL PARK, SD - Volunteers from the Friends of Wind Cave National Park recently helped park staff remove over 3,300 feet of barbed wire fence on National Public Lands Day. Three sections of interior fencing on the former Sanson Ranch were removed as part of the country's largest single-day volunteer event for public lands held Saturday, September 29.
"National Public Lands Day is an opportunity to give back and support the lands that celebrate the country's heritage and scenic values," said park superintendent Vidal Davila. "We'll be recycling this fencing material and using it to replace a fence destroyed in last summer's Myrtle Fire."
The twenty-two person crew worked throughout the morning first taking down the barbed wire strands before removing the posts. The fences were located north of the Sanson Buffalo Jump, inside the existing boundary fence.
"This event offered a chance for local volunteers to work with park personnel by removing interior fencing and improving the scenic vista within the new land," said Lon Sharp, president of the Friends group. "One of the key functions of the Friends of Wind Cave National Park is to enhance appreciation and awareness of the park. We did this while working amidst some beautiful scenery and enjoying perfect fall weather."
Anyone wishing to join the Friends of Wind Cave National Park is encouraged to visit their website at http://friendsofwindcavenp.org. More than 170,000 volunteers at 2,100 sites, from every state in the union, participated in National Public Lands Day events this year.