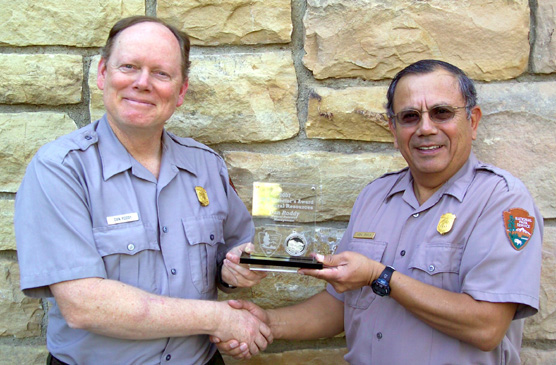 News Release Date:
October 3, 2008
Contact: Tom Farrell, 605-745-4600
Wind Cave National Park, S.D. – Dan Roddy, Wind Cave National Park's biologist, was recently presented the National Park Service's Midwest Region Natural Resource Management Award. This award is given annually to the employee who made the most significant contribution in the field of natural resource management.
"It is an honor and a privilege to have someone of Dan's statue working along side us here at Wind Cave National Park," said park superintendent Vidal Davila. "During his eleven years at Wind Cave, Dan was instrumental in shaping the park's wildlife programs, including playing a key role in the reintroduction of the endangered black-footed ferret."
Roddy competed with nominees from 13 states containing 57 national park service areas.
"It is always an honor and a good feeling inside to be nominated and then selected by your peers for such an award," said Roddy.
Wind Cave National Park is home to a variety of wildlife, including one of the few federally owned bison herds that is disease free and contains no detectable cattle genes in their DNA. For more park information, visit www.nps.gov/wica.