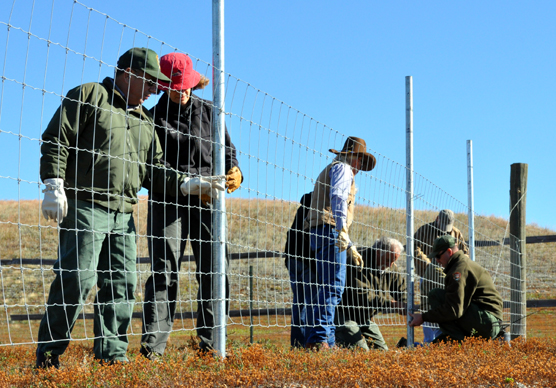 News Release Date:
September 28, 2013
Contact: Tom Farrell, 605-745-1130
WIND CAVE NATIONAL PARK, SD – Volunteers from the Friends of Wind Cave National Park helped park staff install 400 feet of new fence at the park's Wildlife Capture Facility as part of National Public Lands Day.
"National Public Lands Day has become the largest, single-day volunteer effort for public lands in the country," said park superintendent Vidal Davila. "We appreciate the help our Friends group was able to provide. This is the third year in a row they have joined us in preserving one of the country's oldest national parks."
The crew worked throughout the morning installing the fence at the capture facility. The park uses this facility to round up and ship off surplus bison in order to keep the herd size in check with available vegetation.
Held annually on the last Saturday in September, more than 180,000 volunteers at 2,200 sites, from every state in the union, participated in National Public Lands Day events this year.