Free Tours at Jewel and Wind Caves September 29 in Honor of National Public Lands Day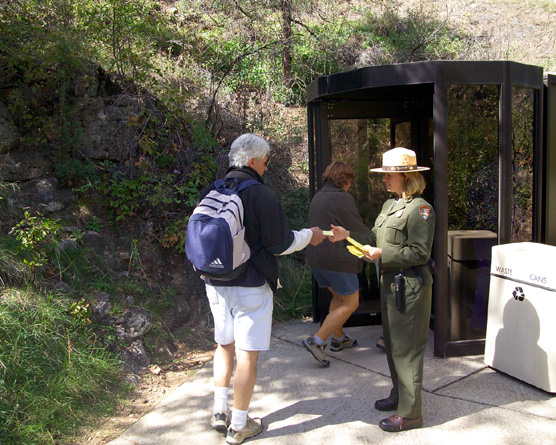 News Release Date:
September 20, 2007
Contact: Dena Matteson, 605-673-2288 X 1237
Contact: Tom Farrell, 605-745-4600
 WIND CAVE NATIONAL PARK, S.D. - All cave tours and programs at Jewel Cave National Monument and Wind Cave National Park will be free to the public on Saturday, September 29, in recognition of National Public Lands Day. This annual event celebrates public lands and the numerous volunteer hours contributed to keeping them healthy for future generations.
Jewel Cave Superintendent Todd Suess said, "Since October 2006, volunteers have contributed over 2500 hours of service at Jewel Cave National Monument. A wide variety of projects were assisted by volunteer efforts, including: cave exploration, exotic plant eradication, cave tours, visitor services, and maintenance tasks."
Jewel Cave visitors may choose either the Scenic Tour or the Discovery Talk. The Scenic Tour provides an opportunity to view the variety of beautiful, colorful, and rare cave formations for which Jewel Cave is famous. This half-mile tour is moderately strenuous, following a paved lighted trail with over 700 stairs and lasting approximately an hour and twenty minutes. The Discovery Talk is a twenty-minute wheelchair accessible program conducted in one large room of the cave. Cave tours will begin at 9:35 a.m. with the last tour at 4:30 p.m.
Wind Cave will be offering tours lasting an hour and fifteen minutes every thirty minutes from 9 a.m. to 4:30 p.m. Visitors will walk along the Natural Entrance Tour and viewing the boxwork for which the cave is famous. This half-mile tour is moderately strenuous with approximately 300 stairs, most of them going down.
Cave temperatures at both caves are around 50 ºF. A light coat or sweater and sturdy walking shoes are recommended. All tours begin at the respective visitor centers, and cave tour tickets will be issued on a first come, first served basis. Advance reservations are not available for this day.
"Wind Cave visitors will be able to end the day with a ranger program listening for the sound of elk bugling," said Acting Superintendent Tom Farrell. "Beginning at 7 p.m. at the Elk Mountain Campground Amphitheater, a ranger will give a brief talk about elk and then the group will drive to a pullout to listen for the elk's high-pitched bugle. If you have never heard this sound of the wild, you need to dress warmly, bring a flashlight, and join the ranger for this unique program."
For more information, please contact Jewel Cave National Monument at 605-673-2061 or Wind Cave National Park at 605-745-4600.
Last updated: December 29, 2017