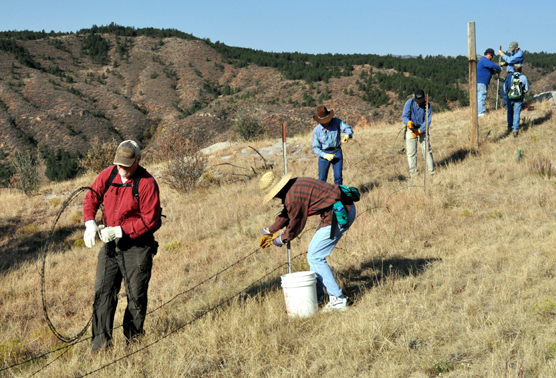 News Release Date:
September 19, 2013
Contact: Tom Farrell, 605-745-1130
WIND CAVE NATIONAL PARK, SD – Jewel Cave National Monument and Wind Cave National Park will be offering free tours on Saturday, September 28, as part of National Public Lands Day. Additionally, each area will also host volunteers for a special day of service and celebration.
"This is the 20th anniversary of National Public Lands Day and in that time it has become the largest, single-day volunteer event for public lands in our country," said Wind Cave Superintendent Vidal Davila. "Both Jewel and Wind Caves will be offering opportunities for the public to help maintain these special areas, along with providing an opportunity for people to get outside and enjoy their parks."
Jewel Cave visitors may choose either the Scenic Tour or Discovery Tour as their venture into the third longest cave in the world. The Scenic Tour provides an opportunity to view a variety of beautiful, colorful, and rare cave formations for which Jewel Cave is famous. This half-mile tour is moderately strenuous, follows a paved lighted trail with over 700 stairs, and lasts approximately an hour and twenty minutes. The Discovery Tour is a twenty-minute wheelchair accessible program, conducted in one large room of the cave. Cave tours will begin at 9:20 a.m. with the last tour at 3:35 p.m.
Wind Cave will be offering hour-long tours every thirty minutes from 9 a.m. to 4 p.m. Visitors will walk along the Garden of Eden Tour and view a variety of cave formations, including the unique cave formation called boxwork. This quarter-mile long tour is moderately strenuous with approximately 150 stairs.
Cave temperatures at both caves are around 50 ºF. A light coat or sweater and sturdy walking shoes are recommended. All tours begin at the respective visitor centers, and cave tour tickets will be issued on a first come, first served basis. This event can be extremely popular resulting in long wait times and possible "sold out" tours.
People interested in volunteering at Jewel Cave on this special event date are encouraged to report to the visitor center by 10:00 a.m. Volunteers will be assigned various tasks, such as picking up litter along the Monument's interior roadways, parking lot areas, and trailhead locations.Other tasks will include some trail work along the one-quarter mile Roof Trail.
Superintendent Larry Johnson of Jewel Cave states, "Late September is a beautiful time to visit public land sites and experience the fall scenery.Although National Public Lands Day is geared toward volunteerism, we simply want to invite visitors to the monument and have them enjoy a day of fee free cave tours and perhaps some hiking in the surrounding forest."
The Friends of Wind Cave National Park will be working on a fencing project located at the park's wildlife capture facility. People interested in helping out are encouraged to meet at the park visitor center at 8:30 a.m. dressed for the weather with work gloves and water. The work project ends around noon; participants will then return to the headquarters area for a free lunch. Call the park at the number below to make a reservation.
National Public Lands Day is a time to celebrate the heritage sites of the United States.All visitors are encouraged to explore these natural and cultural treasures and take the time to learn the significance behind each location.For more information, contact the visitor centers at 605-673-8300 (Jewel Cave) or 605-745-4600 (Wind Cave).