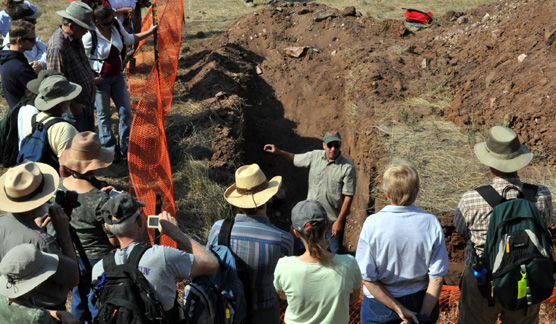 News Release Date:
September 7, 2012
Contact: Tom Farrell, 605-745-1130
WIND CAVE NATIONAL PARK, S.D. - National Park Service archeologists recently completed a three-week investigation of the Sanson Buffalo Jump and surrounding area in Wind Cave National Park.
Eight archeologists from the Midwest Archeological Center, an office of the National Park Service located in Lincoln, Nebraska, used walking surveys, a magnetometer to look beneath the surface, testexcavations, and a survey grade Global Positing System (GPS) to extesivelymap the site'sfeaturesadtopography.
"Artifacts and features discovered so far lead the archeologists to believe there were multiple uses of the site including that of a buffalo jump, campsite, and also for ceremonial activities," said Vidal Davila, park superintendent. "It appears these activities occurred over a long period of time, potentially as much as four thousand years."
This project will provide the park with esential information about the site prior to continuing a visitor use plan for the area and developing iterpretive products for the buffalo jump.
The project was financed with funds generated from cave tour receipts.