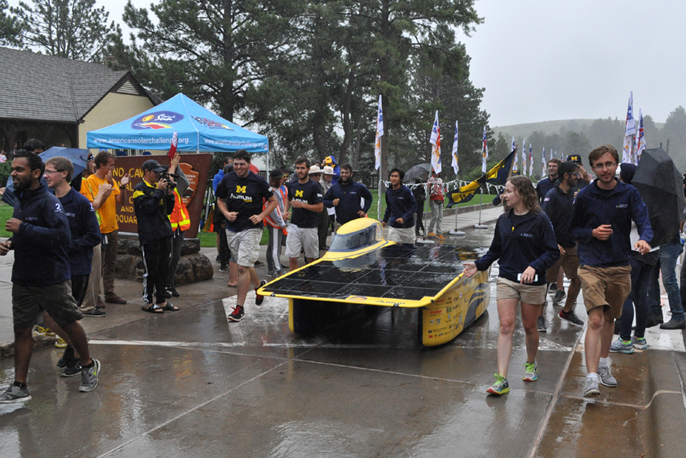 News Release Date:
August 8, 2016
Contact: Tom Farrell, 605-745-1130
WIND CAVE NATIONAL PARK, SD— It was a challenging day to be driving a solar powered car, as overcast skies and a steady drizzle lowered the sun's available power, but the University of Michigan's car powered through the rain and won the 2016 American Solar Challenge. The rally began on July 30 in Cuyahoga Valley National Park in Ohio and traveled across 7 states and 1,975 miles in 8 days before concluding at Wind Cave National Park Saturday afternoon. The winning car finished the rally in 48 hours, 26 minutes, and 46 seconds.
"We're very relieved for the race to be over," said Clayton Daily, Engineering Director for the University of Michigan car. "We put in so much effort to get the car ready for the road. We worked on it all year and the entire team's effort paid off."
Every two years the Innovators Educational Foundation organizes the American Solar Challenge, a collegiate student design competition to design, build, and drive solar-powered vehicles in a cross-country time/distance rally event.
"We were told this was one of the toughest rallies in 17 years due to the cloudy and wet weather the teams experienced along the route," said Park Superintendent Vidal Dávila. "We were honored to be able to host the conclusion of this innovative rally while celebrating the Centennial of the National Park Service."
For more information about the rally, and the university teams that competed in it, visit americansolarchallenge.org.