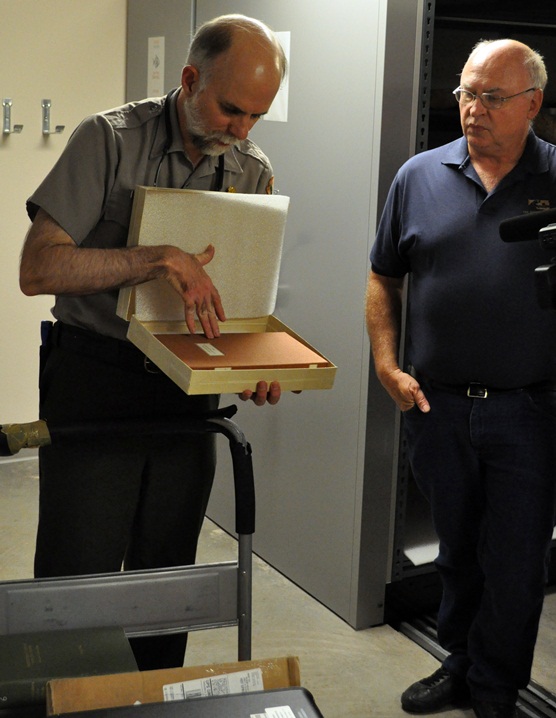 News Release Date:
August 1, 2012
Contact: Tom Farrell, 605-745-1130
Wind Cave National Park, S.D. - With smoke from the Myrtle Fire visible Thursday afternoon, July 19, from the Wind Cave National Park Visitor Center, park officials started thinking about moving critical museum objects to the safety of the Mammoth Site in Hot Springs.
"You have to weigh the risk of moving fragile, non-replaceable objects and potentially damaging them in the move with the risk of leaving them in place and at risk from the fire," said park chief of interpretation Tom Farrell. "With the fire so close, we felt it was time to implement our emergency operation plan and begin the transfer."
The park's museum houses over 12,000 objects but only a handful were slated for removal. Many were already in fireproof safes or were too fragile to move.
"We are glad to be able to help protect Wind Cave National Park's historic items whenever they deem it necessary. We are happy to have them as neighbors and know that they would do the same for us," said Joe Muller, business manager for the Mammoth Site.
The Mammoth Site has a secure, climate controlled collection room that currently houses 5,000 specimens of vertebrate and invertebrate collections and their documentation. The over 1,200 square foot room with compact shelving on rails allows easy access and extra space for storage of sensitive materials. Since the discovery of the Centennial Site in Wind Cave National Park in 2003, the Mammoth Site has offered the park preparation and storage spaces for the recovered fossils.
"The Mammoth Site really helped us out. I called around 6 p.m. and Joe immediately said they would help any way they could. We loaded our most at-risk objects and carefully drove to town around 9 p.m.," Farrell said. "The glow from the flames was very visible that night, and it was a big relief knowing objects like the McDonald Diary and Map were safe."
Once the threat from the Myrtle Fire lessened, the objects were returned to the park on July 24. With the continuing threat from high fire danger, the items are stored at Wind Cave in a manner that allows for a quick evacuation if needed.