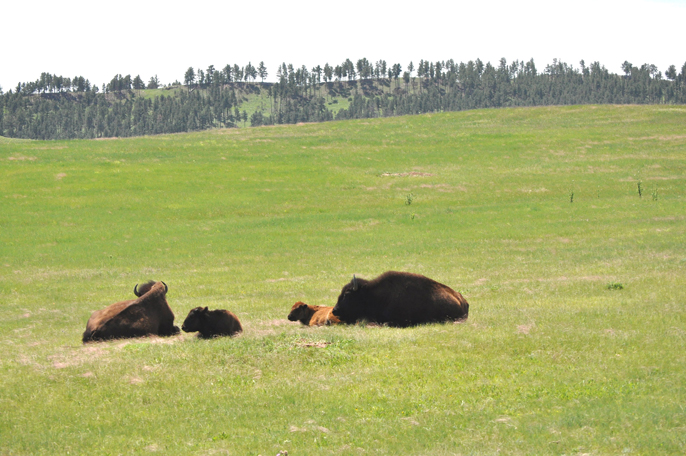 News Release Date:
July 28, 2015
Contact: Tom Farrell, 605-745-1130
WIND CAVE NATIONAL PARK, SD –After an interagency review involving fire management specialists from across the country, the National Park Service (NPS) has released the report on the Cold Brook Fire.The Cold Brook Fire started from a spot fire that escaped a planned prescribed fire at Wind Cave National Park on April 13, 2015.The escaped fire was kept within the park boundary with no loss of life, injuries, structures or damage to private property.
The report was completed by an interagency team at the request of the NPS Midwest Regional Director Cam Sholly.The purpose of the review was to identify lessons learned from the Cold Brook Fire and to share these lessons with the fire management community.
The report found that the park underestimated how the dry prairie conditions would affect efforts to control an escaped fire should one occur. Investigators found there were not enough resources along the fire's eastern side to control the escape when it happened.
In the opening minutes of the escaped fire, a UTV overturned and was burnt over.The report recommended an interagency review focus on UTV use by the national fire program before the NPS invests in further equipment. Additionally, training nationwide needs to be developed for UTV operators that provide an opportunity to train in an off-road environment instead of just on a flat area.
The report noted that conditions were within prescription when the fire was ignited and that staff had the proper training necessary to conduct the burn.The report also noted how swiftly firefighters transitioned from the prescribed fire to the wildfire and how quickly the fire was contained in the park.Fire crews worked throughout the night to establish a defensible line that kept the fire in the park without incurring any injuries.
"We are committed to incorporating the recommendations from this report into our fire management activities at Wind Cave National Park," said park Superintendent Vidal Dávila. "We want to learn from this fire and continue to improve our coordination with our partners, cooperators, and neighbors."
Over the past decade, the National Park Service has conducted over 2,700 prescribed fires totaling nearly 1.5 million acres with approximately 0.007 percent escaping planned perimeters. Despite this highly successful track record, the NPS continues to work with interagency partners and regularly reviews policies and procedures and makes adjustments when necessary.
The full report is available on the Wildland Fire Lessons Learned Center website at: http://bit.ly/ColdBrookRX