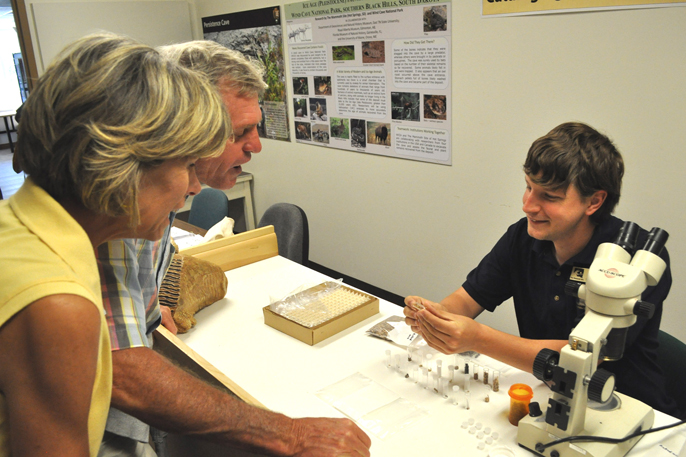 News Release Date:
July 16, 2015
Contact: Tom Farrell, 605-745-1130
WIND CAVE NATIONAL PARK, SD – An evening reception and program are planned at Wind Cave National Park on Saturday, July 25, to provide an update on fossils found during on-going exploration efforts at Persistence Cave. The park is partnering with The Friends of Wind Cave National Park and The Mammoth Site of Hot Springs for the event.
The program begins at 7 p.m. in the park's visitor center auditorium. The presentation will be by Dr. Jim Mead, the project's principal investigator, Site Director of The Mammoth Site, and Chair of the Department of Geosciences at East Tennessee State University.
Following his presentation, there will be a brief update on efforts to expand the small cave whose passages are blocked by washed in sediment. The cave's strong airflow indicates the potential to connect with nearby Wind Cave.
In early June, Dr. Mead supervised a two-week field camp to remove sediment from the cave containing ice age fossils. The fossils, dating back potentially 11,000 years, will provide clues of past climates and help researchers study how animals have adapted to changing environments.
Every Wednesday and Thursday during the summer, staff from The Mammoth Site will be at the Wind Cave Visitor Center sorting through fossils and explaining their work to the public.
Persistence Cave is less than 150 feet in length and only two-feet high. Its entrance is gated and the area closed to the public.