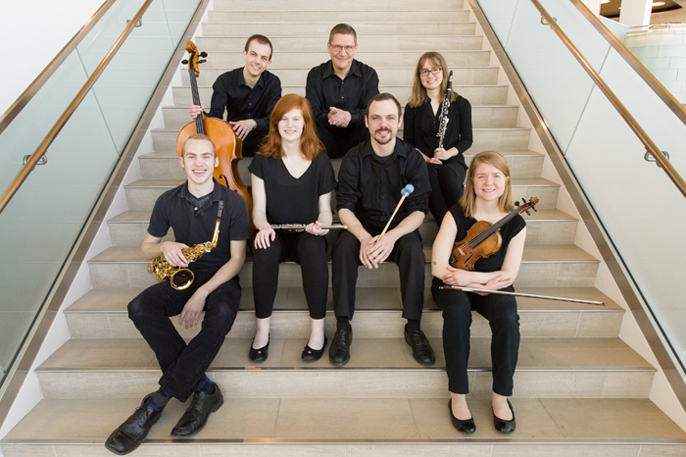 News Release Date:
June 28, 2016
Contact: Tom Farrell, 605-745-1130
WIND CAVE NATIONAL PARK, SD – The Grand Valley State University New Music Ensemble is returning to the national stage to celebrate the 100th birthday of the National Park System with performances at Badlands National Park and Wind Cave National Park this weekend.
"We're very excited to hear their compositions written about Wind Cave," said Wind Cave Park Superintendent Vidal Dávila. "It's a wonderful opportunity to enjoy nature and listen to the sounds of music."
These musical programs will be held at the Badlands' Cedar Pass Campground Amphitheater on Friday and Saturday, July 1 and 2, at 8 p.m. and at Wind Cave's Elk Mountain Campground on Sunday, July 3, at 7 p.m.
The ensemble presents this program over a fourteen day, four thousand mile driving tour. Performing at both indoor and outdoor venues, they will perform concerts at two additional parks— Yellowstone and Grand Teton. All concerts are free, open to the public, and for all ages.
With a funding award from the National Endowment for the Arts, eight acclaimed composers were commissioned to create music that will be performed within the parks. The music reflects the immense diversity of the parks while capturing their breathtaking and inspiring landscapes and wildlife. Alexandra Gardner's Vixen portrays the wild spirit of Yellowstone's unpredictable Vixen geyser. Molly Joyce's Bite the Dust is based on the process of rapid erosion found in Badlands National Park. Teewinot, composed by Betsey Biggs, presents a sonic time lapse of Teewinot Mountain, within Grand Teton National Park. Patrick Harlin's Wind Cave, based on Wind Cave National Park, captures the structure of the caves in addition to the emotional aspects of exploring them. Rob Deemer's Firehole Mists is based on the beautiful morning mist of Yellowstone National Park's Firehole River. Heat curls up from the dust, composed by Jeff Herriott, is based on the endlessly emerging details that reveal themselves when taking in the enormous landscapes of Grand Teton National Park. Paula Matthusen's on the analogical understandings of space combine the ensemble with actual recordings of the caves she made within Wind Cave. Finally, Phil Kline's Dawn Chorus is based on the birdsong of the Western Meadowlark, common to Badlands National Park. In addition, music composed for the ensemble's 2014 southwest national parks tour will be performed, composed by Ashley Stanley, David Biedenbender, and Thad Anderson.
Based in Allendale, Michigan, the Grand Valley State University New Music Ensemble is an undergraduate classical chamber ensemble dedicated to music of the past twenty years. They have performed at notable venues including New York's Carnegie Hall, World Financial Center, and Chicago's Millennium Park.
For more information call the park at 605-745-4600.