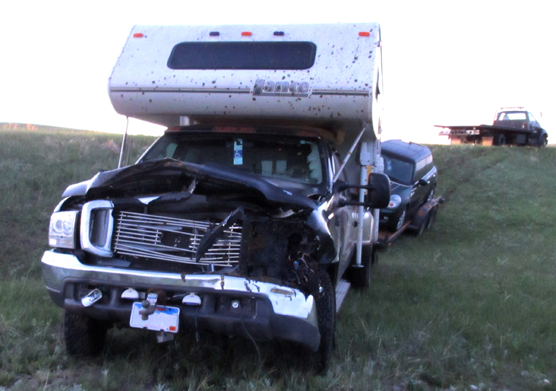 News Release Date:
June 21, 2013
Contact: Tom Farrell, 605-745-1130
WIND CAVE NATIONAL PARK, S.D. – A recent vehicle accident at Wind Cave National Park highlights the need to drive cautiously due to wildlife on the road. Three bison were killed when a truck pulling a trailer hit and killed two cows and one calf late at night.
"This time of year we see an increase in large vehicles driving through the park," said park superintendent Vidal Davila. "These heavier vehicles have longer stopping distances even when driving the speed limit. When combined with animals on the road and visitors stopping unexpectedly to view the wildlife, it shows the need for everyone to drive with caution."
Each year, three or four bison are killed along park roadways. These large animals can be very difficult to see at night as their brown fur blends into the surrounding darkness.
Davila said, "We also urge visitors to not approach bison on foot. They can be very unpredictable and could easily charge someone unexpectedly."
The park has a bison herd of approximately 400 animals. This year is the one-hundredth anniversary of the reintroduction of the bison to Wind Cave National Park.