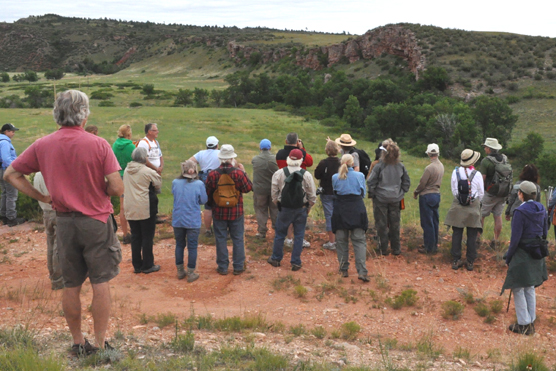 News Release Date:
June 19, 2014
Contact: Tom Farrell, 605-745-1130
WIND CAVE NATIONAL PARK, SD – Rangers at Wind Cave National Park will be offering a variety of interpretive programs this summer. Thirty tours a day will be offered through the world's sixth-longest cave each day beginning at 8:40 a.m. with the last tour entering the cave at 6 p.m. In addition, there will be tours of the Sanson Buffalo Jump on Saturdays and a bird walk on Mondays from June 21 to August 2.
A three-hour tour of the Sanson Buffalo Jump will be offered on Saturdays from June 21 to August 2 beginning at 8:45 a.m. at the park visitor center. From there, participants will car caravan out to the Sanson Ranch. Dress for the weather and bring water, sunscreen, and hiking shoes. The 1.5 mile hike is moderately strenuous. Participants on June 21 will be able to visit an archeology dig in progress at the Sanson Ranch.
People interested in exploring the park's bird life should meet at the visitor center at 9 a.m. on Mondays to join a ranger for a 2-hour bird walk in the vicinity of the visitor center.If you have them, bring binoculars and a bird identification book. The program runs from June 23 to July 28.
Walking tours through the cave along the Natural Entrance, Fairgrounds, Garden of Eden, and Candlelight Tours to the Pearly Gates will be given daily. Fees range from $10 to $12, with children and Senior Pass holders half price. Children five and under are free. The minimum age for the Candlelight Tour is 8 years.
For the more adventurous, half-day cave crawling tours are led through a non-developed section of cave. Each participant is given a headlamp and kneepads before following their guide into a wild section of cave. Cost of this tour is $30; participants must be at least 16 years of age.
All cave tours begin at the visitor center which is open 8 a.m. to 7 p.m. Visitors will need a light coat or sweater and sturdy shoes. Reservations are recommended for the more strenuous Candlelight and Wild Cave Tours; otherwise, all tours are first come, first served.
Rangers will end the day with a nightly program at the Elk Mountain Campground. Through August 16, campfire programs begin at 9 p.m. From August 17 to September 1, programs begin at 8 p.m. Topics change daily.
For those wanting to wander off the beaten track, the park hosts 44 square miles of prairie and forest. People can use the 30 miles of existing park trails or strike off on their own. Horses are allowed in the backcountry; obtain a permit at the park's visitor center before beginning. For more information, call the park at (605) 745-4600 or visit www.nps.gov/wica.