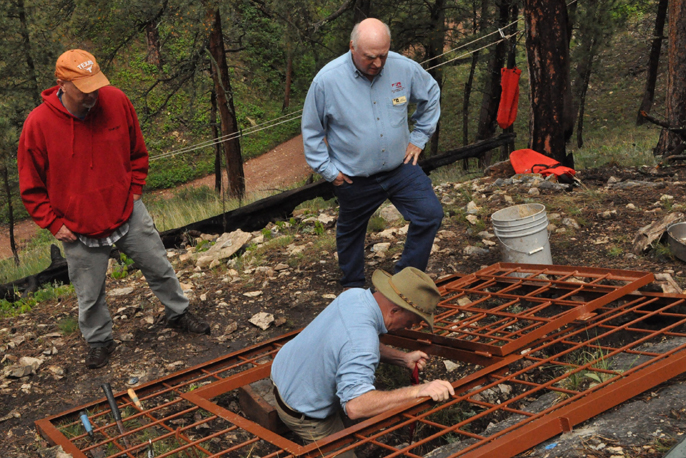 News Release Date:
June 11, 2015
Contact: Tom Farrell, 605-745-1130
WINDCAVE NATIONAL PARK, SD – A two-week field camp is in progress at Wind Cave National Park as scientists begin removing sediment from a cave containing ice age fossils. The fossils, dating back potentially 11,000 years, will provide clues of past climates and help researchers study how animals have adapted to changing environments.
The project is a collaboration between the park and The Mammoth Site of Hot Springs. The principal investigator is Dr. Jim Mead, Site Director of The Mammoth Site and Chair of the Department of Geosciences at East Tennessee State University.
"Partnering with the Mammoth Site allows us to tap into their expertise and provides us a means of recovering and preserving these fossils," said park Superintendent Vidal Davila.
The fossils are being removed from Persistence Cave, an opening first discovered by the park's Physical Science Technician, Marc Ohms, in 2004. Initially discouraged from exploring the opening due to the presence of rattlesnakes and poison ivy, in 2006 a data logger placed in the entrance revealed strong air flow patterns that mimicked nearby Wind Cave.
A test excavation in 2013 showed the presence of thousands of small bones in sediment that had washed into the cave. This same sediment blocks what is now a 4-inch high passageway containing strong airflow. Wind Cave is located only a third of a mile away, and there is the possibility Persistence Cave connects with it. Scientist hope by removing sediment for study by paleontologist, they will also make it easier for cave explorers to later enlarge the small passage and see if it leads to larger passages.
"Studying ice aged fossils helps us reconstruct past environments and reveals clues on how modern animals might adapt to warming climates," said Dr. Jim Mead. "This is a significant site that could teach us about the past and help us plan for the future."
While the cave is only 26 feet long and two feet high, its entrance has been gated and the area closed to the public.