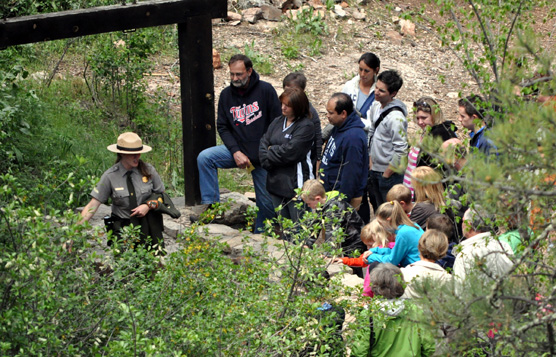 News Release Date:
May 30, 2013
Contact: Tom Farrell, 605-745-1130
WIND CAVE NATIONAL PARK, S.D. – A cool and blustery holiday weekend resulted in the highest Memorial Day Weekend visitation for Wind Cave National Park on record. The parking lot was overflowing as rangers lead 62 tours through the cave to 2,260 visitors.
"When we have bad weather, our visitation goes up," said park superintendent Vidal Davila. "Whatever the weather, rain or shine, we have something to offer. On the surface, we have over 28,000 acres to explore, and with all this rain the park looks great. Below the surface, you can tour the sixth-longest cave in the world regardless of the weather."
Visitors wanting to view Wind Cave are encouraged to arrive early in the day. Beginning June 9th through August 10, rangers will be offering 28 tours a day with the first tour entering at 9:20 a.m. and the last one at 5:30 p.m. Tours leave the visitor center approximately every 20 minutes. The busiest days of the week are Tuesday and Wednesday and any day it rains. The visitor center will be open 9 a.m. to 6 p.m. throughout the summer.