Service First Agreement Signed between U.S. Forest Service and National Park Service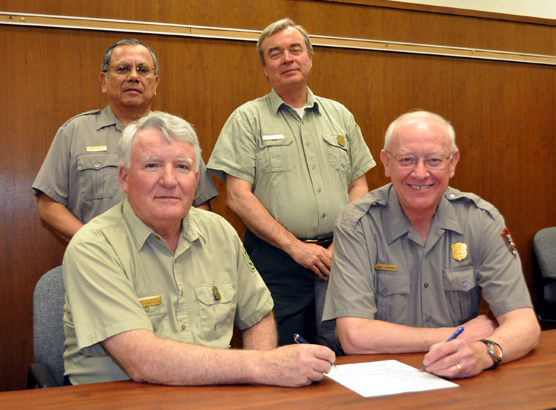 News Release Date:
May 30, 2013
Contact: Tom Farrell, 605-745-1130
Contact: Bradley Block, 605-673-8330
Contact: Mike McNeill, 605-745-4107
Local public land management agencies in the southern Black Hills are working closer together as a result of a recently signed agreement between the Forest Service and the National Park Service. Known as a "Service First" agreement, reflecting the recent law on which it is based, the agreement allows the Forest Service, National Park Service, Bureau of Land Management, and U.S. Fish and Wildlife Service to exchange resources and share equipment across jurisdictional boundaries.
"We hope this agreement improves service to the public while increasing operational efficiencies among agencies," said Larry Johnson, Jewel Cave National Monument Superintendent. "We all share common borders and in many cases, similar issues. In this time of budget shortfalls, working together as good neighbors makes sense and benefits everyone, especially the taxpayers."
Participating in this agreement is the Hell Canyon Ranger District of the Black Hills National Forest, the Fall River Ranger District of the Nebraska National Forests and Grasslands, Jewel Cave National Monument, and Wind Cave National Park.
"This is really about building relationships between administrators and looking for opportunities to share scarce resources," stated Hell Canyon District Ranger, Lynn Kolund.
"These types of agreements do not involve transferring funds, but instead the exchange of services and equipment," said Mike McNeill, Fall River District Ranger. "We have need for a kit fox survey, and Wind Cave has a staff member who did his master's thesis on the kit fox. In these challenging budget times, instead of contracting out the survey, we can now borrow a federal employee from another agency to accomplish the work."
Johnson continued, "It legally allows us to barter among ourselves to get the job done in the most efficient manner possible. If the Forest Service needs someone to assist with cave management issues at some of their caves, we have the expertise to do that. If Wind Wave needs an archeologist, this agreement allows a Forest Service archeologist to work in a national park."
Legislation authorizing these types of agreements was passed in 2012.
For more information, visit: https://www.fs.fed.us/servicefirst/index.shtml.
Last updated: April 10, 2015