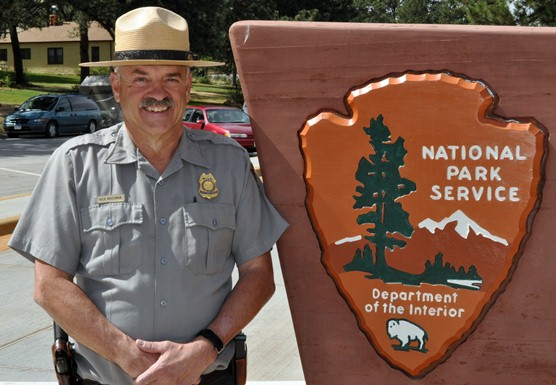 News Release Date:
May 10, 2012
Contact: Tom Farrell, 605-745-1130
WIND CAVE NATIONAL PARK, SD - Rick Mossman, Chief Ranger at Wind Cave National Park, has retired after 35 years of federal service. As part of this retirement, he was also recently honored by the Intermountain Regional Director,John Wessels,for his twelve years of working on the Intermountain Region All-Risk Type 2 Incident Management Team. 
"What I loved about being a park ranger is the variety of things we did plus working in the most incredible areas of America," said Rick Mossman. "Raising two sons in Yellowstone was fun and a challenge with grizzly bears and bison roaming through the front yard and my wife Julie having to snowmobile the boys to school every day." 
Chief Ranger Mossman knew from the age of seven that he wanted to be a park ranger. He began his National Park Service (NPS) career while attending Kansas State University when he reported for work as a general ranger at Buffalo National River in Arkansas.
"I remember my Mom and Dad dropping me, my bike, and my canoe off at my first seasonal job," recalls Rick Mossman. "My Mom said it was like dropping me off at a summer camp rather than a job."

After earning a Bachelor of Science degree in wildlife management, he began a distinguished career that spanned park service units from Washington, D.C., to Alaska. His first permanent job was as an interpreter at Ford's Theatre National Historic Site in Washington, D.C. 
At Grand Canyon National Park, Mossman served as a backcountry ranger patrolling the Canyon by foot, and he was also in charge of the park's search and rescue operations.It was at the Canyon that he met his future wife, Julie Jackson, who was then a boatman on the Colorado River for the NPS.

Mossman received 21 awards from the NPS and Department of Interior, including the Department's first Exemplary Act Award earned, along with two other rangers, for "man tracking" a potential suicide victim through the desert and ultimately saving her life.
In 1989, Mossman transferred to Wrangell-St. Elias National Park in Alaska where he
also worked for Glacier Bay National Park as the Yakutat District Ranger.He assisted Canadian wardens on projects, wrote a management plan for river rafting on Alsek-Tatshenshini River, and participated in climbing trips with Kluane National Park and Reserve wardens.

Mossman joined what is now the Intermountain Region All-Risk Type 2 Incident Management Team in 2000. These teams are dispatched to NPS areas that have been impacted by natural disasters such as hurricanes, parks involved in extensive searches, or for special events such as providing perimeter security at four of the venues for the Salt Lake Olympics in 2002 or assisting impacted parks from the 2010 gulf oil spill. Since 2009, Mossman served as the Incident Commander for the team.
Since 2003, Mossman has been the chief ranger at Wind Cave National Park where he oversaw law enforcement operations, emergency medical services, search and rescue functions, and safety operations.
"I got to live my dream," chief ranger Rick Mossman said. "I skied, scuba dived, rafted, kayaked, climbed, and hiked as part of my job. It's been a great adventure and a lot of fun!"
During his permanent career, he was Federal Law Enforcement Officer, emergency medical technician, wildland and structural firefighter, plus a certified instructor in search and rescue, first aid, and the incident command system.
 Rick worked at a variety of NPS units during his career. They include
·College summers 1975, 76, 77-Seasonal Buffalo National River.-Protection Ranger
·1977-1978 Seasonal Petrified Forest NP-Interpretive Ranger
·1978-1979 Ford's theater NHS-Interpretive Ranger
·1979-1983 Bandelier National Monument -Protection Ranger
·1983-1988 Grand Canyon NP-Backcountry Protection Ranger
·1989-1996 Yakutat District Ranger-Wrangell-St. Elias NP/Glacier Bay NP.
·1996-2003 Sub-District Ranger-Yellowstone NP
·2003-2012 Chief Ranger-Wind Cave National Park.
 Rick received Albright Grant Fellowships to speak and attend the first and third International Ranger Federation Conferences in Zakopane, Poland, and Kruger National Park South Africa. 
Rick has been an active member of the Association of National Park Rangers since 1980.
In his retirement, Mossman plans to stay in Hot Springs with his wife Julie and their two sons Thomas and Jackson. 
A celebration of his career will be held in his honor on Saturday, May 26, starting at 5 p.m.at the American Legion Club in Hot Springs. For more information, please contact Karri Fischer at (605) 745-1181 or karri_fischer@nps.gov. 
If you are unable to attend Rick's party and have a story to share, please e-
mail Tom Farrell at 

tom_farrell@nps.gov

and

 we'll read it at the dinner. (The stories don't necessarily have to be true, just believable!)
Well wishes can be sent to Rick at: mossman@gwtc.net.