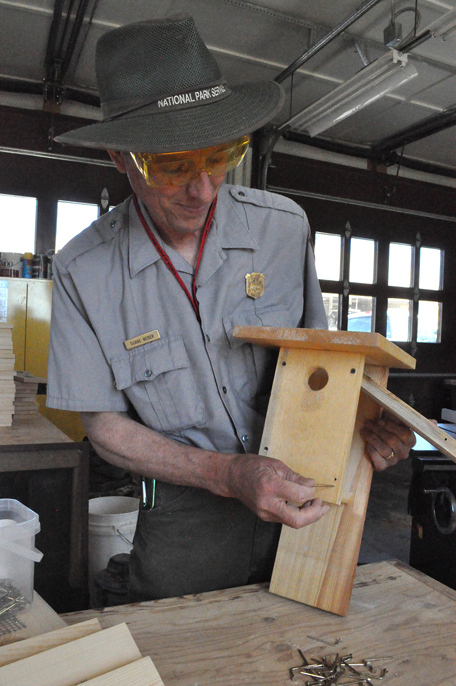 News Release Date:
May 5, 2016
Contact: Tom Farrell, 605-745-1130
WIND CAVE NATIONAL PARK, SD – A variety of feathered events will take place at Wind Cave National Park Saturday, May 21, as the park celebrates the National Park Service Centennial with a bird blitz of activities for experienced and novice bird watchers alike.
The Bird Blitz will offer activities for all skill and interest levels: bird walks for the beginners, bird surveys for the more experienced birders, bird box construction for family groups, mist netting to see birds up close and demonstrations with live hawks, owls and eagles to learn about conservation of raptors. Staff will discuss bird apps for phones and ipads, such as ebird and inaturalist, field guides, binoculars, spotting scopes and birding ethics
"Our hope is to spark an interest and enthusiasm in all age groups from young children to adults," said Park Superintendent Vidal Davila. "Birdwatching can be a lifelong hobby that anyone can participate in no matter what your skill or interest level may be, and parks are wonderful places to look for birds."
Beginning at 12:01 a.m. Saturday, May 21, and continuing until midnight 24 hours later, experienced birders will be surveying the park for birds, especially migratory species.
Davila continued, "We are looking for people who have strong bird identification skills to participate and help us survey the entire park. We will be dividing the Park into Units, so if birders would let us know as soon as possible if they were interested in taking part that would be very helpful. The actual hours each birder conducts their survey will be up to them, as long as it occurs on May 21."
Results from the survey will be tabulated at the visitor center with the final list being displayed on the National Mall in Washington D.C. where there will be a Jumbotron set up to show the total number of plant and animal species documented throughout the country on this day.
All day events, 8 a.m. to 5 p.m., occurring near the visitor center include a bird sculpture demonstration, display of bird books/binoculars and other equipment, and a large screen with park bird totals continually updated.
Scheduled events include mist netting and banding by the South Dakota Game, Fish and Parks Department at the picnic area from 7 a.m. to noon. Bird walks for casual birders beginning at the visitor center at 8:30 a.m., 10 a.m., and 11:30 a.m. The Black Hills Raptor Center will have raptors on display on the front lawn from noon to 4:30 p.m. and 30-minute programs in the visitor center auditorium at 1:30 p.m. and 3:30 p.m. If you want to make your own bird box, join in the building on the visitor center front lawn from 1 p.m. to 5 p.m.
To celebrate 100 years of stewardship, the National Park Service is hosting BioBlitzes in over a hundred National Park sites during 2016. Data from BioBlitzes from around the country will be entered into a central "Base Station" and broadcasted on the National Mall May 21. This service-wide event is a significant contribution to the NPS Centennial goal of 'inspiring the next generation of park stewards, visitors, and advocates', and the 'Find Your Park' campaign, as well as the NPS goal to 'Go Digital' and the President's initiative to get 'Every Kid in a Park.'
For more information call the park at 605-745-4600 or visit www.nps.gov/wica.