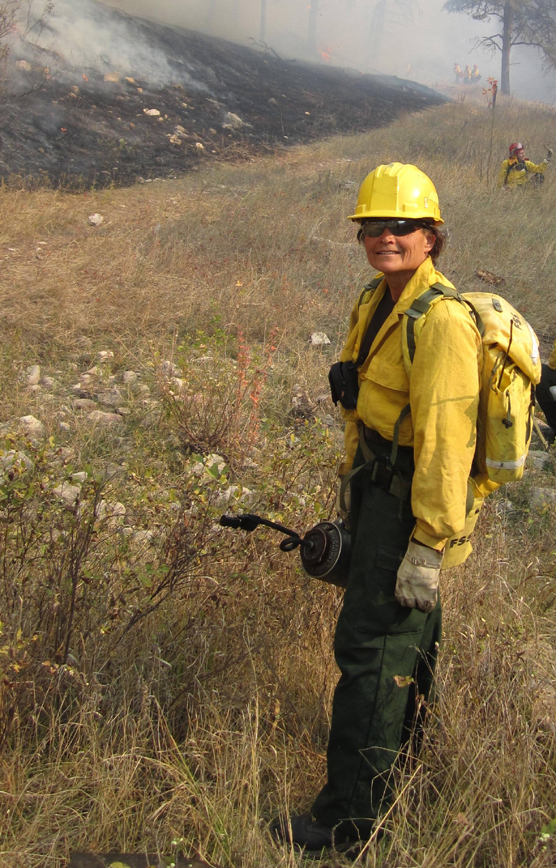 News Release Date:
May 1, 2014
Contact: Tom Farrell, 605-745-1130
WIND CAVE NATIONAL PARK, S.D. – A summer internship for the National Park Service (NPS) changed the life of a woman from Cleveland, Ohio. Wind Cave National Park Botanist Beth Burkhart switched her college major after that summer and started making plans for a career that included five NPS units, the U.S. Forest Service, the U.S. Army Corps of Engineers, the Bureau of Reclamation and the Department of Energy. Burkhart retires this week after a 30-year career working for the Federal Government.
"Being able to be all over the Black Hills, going where no one else goes, working on native plants has been the highlight of my career," said Burkhart. "I just love the Black Hills and its landscape."
While she ended her career as a botanist, she began it as a seasonal interpreter for the NPS at Assateague Island National Seashore in Virginia in 1974. From there she went on to work at Apostle Islands National Lakeshore in Wisconsin, the Corps of Engineers in South Dakota, Jewel Cave National Monument in South Dakota, Theodore Roosevelt National Park in North Dakota, the NPS Denver Service Center in Colorado, and the Black Hills National Forest in South Dakota, before returning to the NPS five years ago at Wind Cave National Park.
"There are always jobs for good botanist," said Burkhart. "I'd encourage anyone interested in being one to spend as much time in the field as you can. There is always something to learn and it's great being outside."
Burkhart intends to remain in the hills as a botanist. Look for her to continue roaming the natural landscapes of the Black Hills while finding and appreciating the plants of the Black Hills.