Wind Cave Turns into Real Math Problem for Custer Students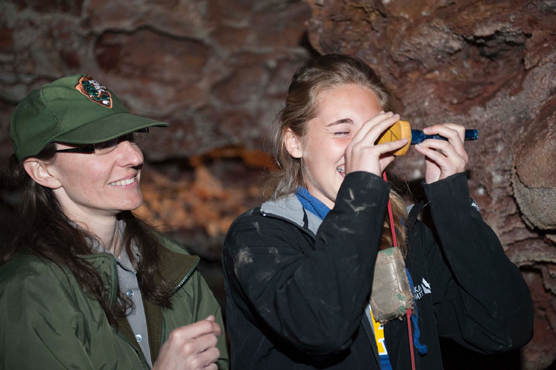 News Release Date:
May 1, 2013
Contact: Tom Farrell, 605-745-1130
WIND CAVE NATIONAL PARK, S.D. - High school students from Custer recently practiced trigonometry by mapping part of the world's sixth-longest cave. Fourteen students from the school's pre-calculus class used a compass, clinometer, and measuring tape to collect data in the cave before using their trigonometry skills to develop a cave map.
"We find this is a great way to bring to life some of the concepts we've been teaching in the classroom," said Kathy Bradeen, Custer High School math teacher. "It takes the lesson out of the classroom and places it into a real-world scenario."
Students first determined the vertical distance between the cave's Lower and Middle Elevator Landings by traversing passages, stairs, and rooms that connect the two landings. Next they collected data that allowed them to draw a map of the Garden of Eden Tour Route.
"This is always a fun day for us, but we couldn't do it without the help of staff from Jewel Cave National Monument," said Mary Laycock, the park's environmental education specialist. "The additional staff allows us to break the students into smaller groups ensuring everyone participates."
Wind Cave has been partnering with the Custer High School for over ten years on this lesson plan. The park's curriculum-based environmental education program began in 1986. For more information on it, visit the park's website at www.nps.gov/wica and follow the links for Teachers.
Last updated: April 10, 2015