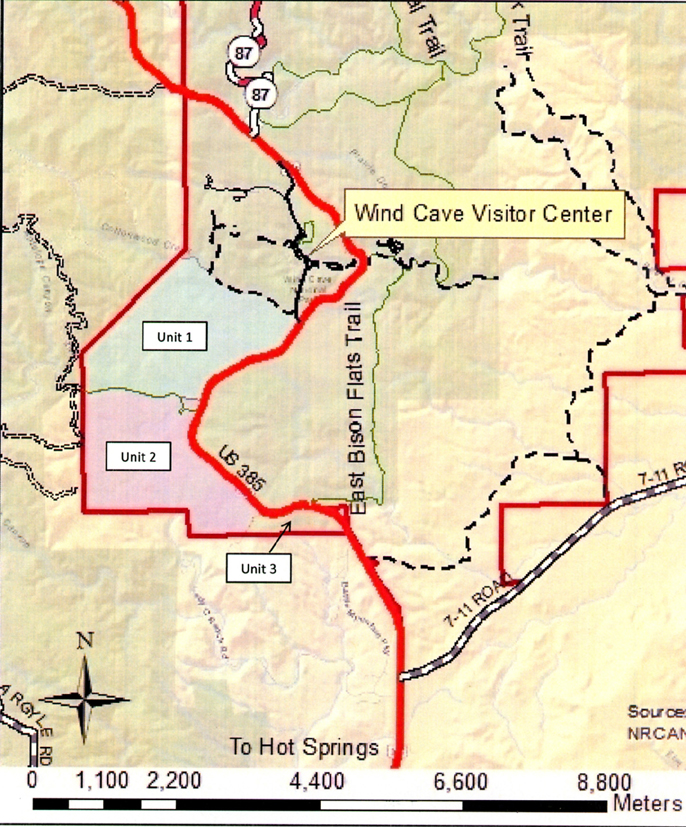 News Release Date:
March 27, 2015
Contact: Tom Farrell, 605-745-1130
WIND CAVE NATIONAL PARK, S.D. –Depending on weather and fuel moisture, fire crews at Wind Cave National Park plan to finish the last 1,000 acres of the Cold Brook Burn this April.
"We're waiting for the spring green up to begin so it will help retard some of the fire spread," said park superintendent Vidal Dávila. "With a little bit of moisture, we could conduct the burn as early as the week of April 6."
Last October, 1,199 acres of the Cold Brook Burn, Units 1 and 3, were burned to help reduce the fuel load and the subsequent risk to nearby homes from a catastrophic wildfire. The day Unit 2 was to burn the weather forecast called for poor smoke dispersal and the burn was postponed.
During burning operations, Highway 385 will be closed periodically due to smoke and nearby flames, and the Cold Brook Trail will be closed potentially for 2 weeks beginning the day of the burn.
This burn is a continuation of a history of prescribed fire application in the park dating back to 1972.