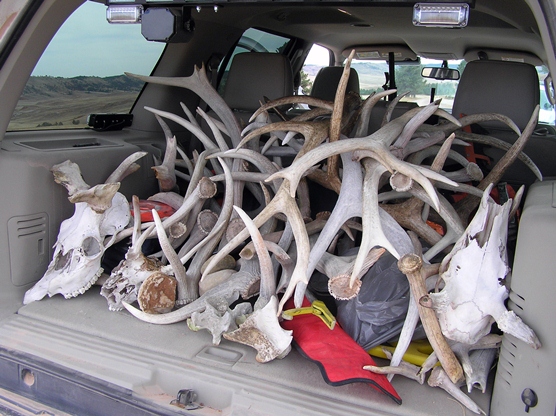 News Release Date:
March 22, 2012
Contact: Tom Farrell, 605-745-1130
WIND CAVE NATIONAL PARK, SD - Rangers at Wind Cave National Park have increased their backcountry patrols to combat the illegal poaching of elk antlers. Each spring, antlers, some weighing as much as 25 pounds, drop off the elk in preparation of growing a new set. Poachers illegally sell the antlers for use in western decorations and in furniture such as chairs and chandeliers.
"Every year we cite people for antler collecting and this spring has been no different," said Acting Chief Ranger Mike Wilson. "This past weekend three people from Minnesota were apprehended after they attempted to take numerous rocks, skulls, and more than 35 antlers."
Elk antlers left in the wild eventually cycle back into the ecosystem where they provide a source of calcium and minerals for many animals such as mice, ground squirrels, bison, and even elk.
The possession, removal, digging, defacing, or disturbing of natural or cultural features from national parks is prohibited by law and subject to fines up to $5,000 and up to six months in jail. Anyone with information regarding antler poaching or other illegal activities occurring within Wind Cave National Park is asked to contact the park at (605) 745-4600.