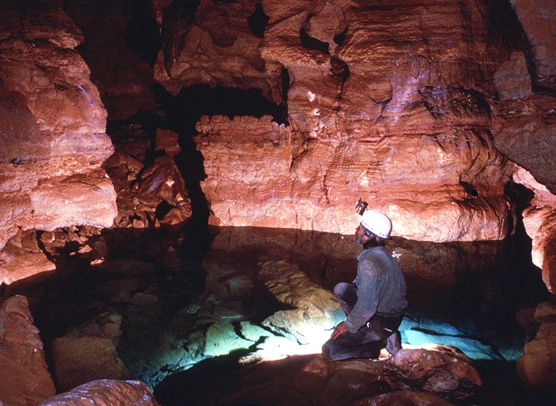 News Release Date:
February 15, 2012
Contact: Tom Farrell, 605-745-1130
WIND CAVE NATIONAL PARK, SD - Scientists from the U.S. Geological Survey (USGS) and the National Park Service recently completed a four-year study looking at the flow, quality, and mixing of the park's groundwater. From 2007 to 2010, researchers collected a total of 100 samples from 60 sites in and around the park including from stream sinks, cave drips, cave water bodies, springs, and wells.
The study found arsenic concentrations approximately coincident with the outcrop of the Minnelusa Formation. These concentrations likely originated from arsenic in shale layers in this formation. This study shows high levels of arsenic in Wind Cave's lakes, but not in its water supply.
"Our drinking water has always been in compliance, including for arsenic. This report talks a lot about water in the cave, but our drinking water doesn't come from the cave," said superintendent Vidal Davila. "We regularly work with the State of South Dakota Department of Environment and Natural Resources to ensure visitors and employees continue to have safe drinking water at Wind Cave National Park."
The park has been using a groundwater well for its water supply for over 50 years. The EPA lowered the maximum contaminant level of arsenic in 2006 from 50 parts per billion (ppb) to 10 ppb. Since 2003, the well water has been tested nine times for arsenic with only one reading over 10 ppb. That reading of 11 ppb occurred in 2004, before the new regulations went into effect, and upon retesting the level was back down to 8 ppb.
Groundwater is an important resource for the park and, in particular, for Wind Cave. Groundwater drips from the ceiling of the cave at numerous locations and exists in ponds, lakes, and streams on the cave floor. For more information, or to read the entire report, visit https://pubs.usgs.gov/sir/2011/5235/.