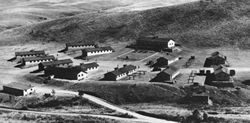 President Franklin Roosevelt signed the bill creating the Civilian Conservation Corps on March 31, 1933 only 3 weeks after his inauguration. The plan was to put 500,000 unemployed youths to work in forests, parks, and range lands.

Rather than establishing a new division, Roosevelt used existing departments to run the program. The Army ran the camps, the Department of Labor recruited the enrollees, and the Departments of the Interior and Agriculture planned the work and gave on-site supervision. The cooperation among the government agencies was amazing. Only 35 days passed between Roosevelt's proposal of the program and the enrollment of the first recruit.

This was a depression era program designed to provide young men between the ages of 18 and 25 with work and, at the same time, "regain lost forest land". The initial call was for 250,000 men. They had to come from families on relief, be unemployed, and unmarried. Their enrollment period was 6 months, but could be extended to up to 4 years if they had a supervisory job. Veterans and "local experienced men" were recruited as supervisors for the work crews.

The enrollees were paid $30.00 per month, or $1.00 per day plus room and board. $22.50 to $25.00 of their pay was sent home to their families. The wages were low, but the program was designed to get the unemployed young men off the streets and into productive work.