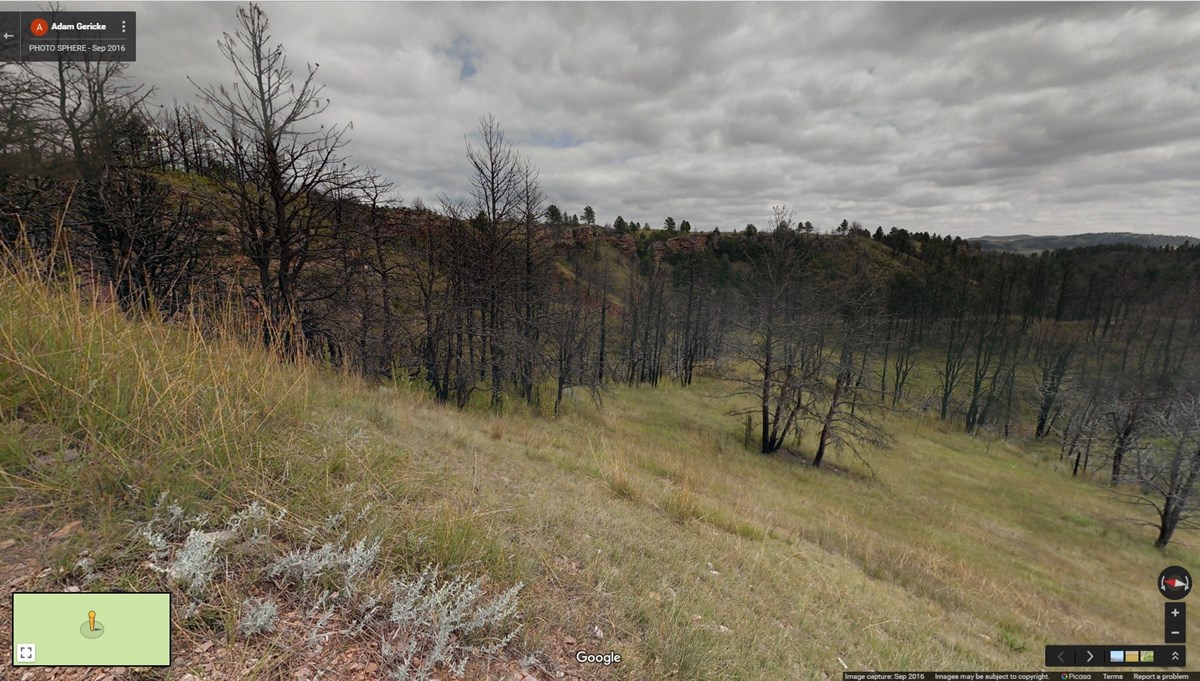 Area Description: A great view of Gobbler Canyon. This is plenty of evidence of the fire which took place a little over year ago at the time of the photo. This area burned hotter and so a lot of the fully-grown trees burned up.
Visible Vegetation:Fringed Sagewort, Woolly Cinquefoil, Buffalo Grass, Prickly Pear Cactus
Possible Animal Habitat:
Mammals: Elk, Porcupine, Mule Deer, White-tailed Deer, Cottontail Rabbit, Striped Skunk, Common Raccoon, Coyote, Mountain Lion, Bobcat, Red Squirrel, Prairie Vole,
Birds: Mourning Dove, Red-headed Woodpecker, American Robin, Spotted Towhee, Western Meadowlark, Brewer's Blackbird
Geology: Now that we have climbed a significant way up the rise the geology has changed. These cliffs and the rocks underneath have shifted from the more red shale of the Minnelusa Formation to lighter shade of the Minnekahta Limestone. This thinly-bedded, slabby limestone is rarely home to caves as it is so thinly-bedded that ceilings would collaspe.
For Educators:
Thematic Information: The natural entrance to Wind Cave is considered very sacred ground to the local tribes of the area. They think of the natural entrance as a portal into the spirit world. It is involved in the Lakota origin stories. Have students watch the video and discuss the significance of Wind Cave to the Lakota people.
Recommended Student Activity:
Have students watch Ranger Sina Bear Eagle tell the Lakota Emergence Story.
Download the Lakota Emergence Story PDF.