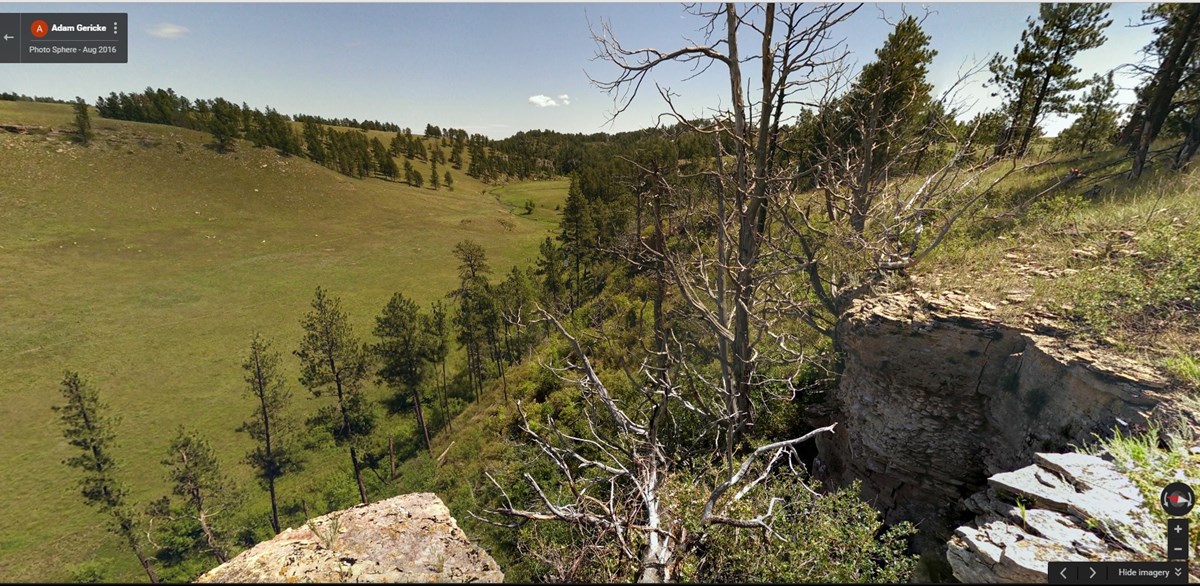 Area Description: If you were an American Indian from the past, what would you hope to see from this ledge? Perhaps, one of the 60 million bison spread across North America for your next meal. What would you like to see today? Perhaps, one of the few remaining remnants of the massive bison herds that roamed the prairies.
Visible Vegetation: Fringed Sagewort, Poison Ivy, Current
Possible Animal Habitat:
Mammals: Bison, Elk, Mule Deer, White-tailed Deer, Coyote, Mountain Lion, Hayden's Shrew, Porcupine
Birds: Black-capped Chickadee, House Wren, Common Nighthawk, Mountain Bluebird, Ovenbird, Common Yellowthroat, Yellow-breasted Chat, Spotted Towhee, Chipping Sparrow
Geology: The rocks on the hillside across the way are Paha Sapa Limestone. The picture is also taken on large outcrop of Paha Sapa Limestone. In other parts of the country this layer of rock is often called the Madison Formation. This limestone formed in the Mississippian age over 330 million years ago. Laid down in a shallow sea, limestone is mostly composed of calcium carbonate. Its coloration ranges from gray to light tan. This is the same limestone layer that Wind Cave is found in.
For Educators:
Thematic Information: As this picture shows quite well, this area of the part is home to a wide range of habitats. These range from the flowing creek, to nooks and crannies in the rocks, to the large amount of trees and dead snags with meadows interspersed throughout. Great bird habitat mixed with (during dry years) the only source of water in the park leads to just a truly amazing experience to walk through this valley. This wildlife traffic does lead to some impact on the stream though. To the northeast, right down the below the bluff the picture is taken on is where a stream enclosure begins. This is a fenced off area to prevent impact from large wildlife. This is just to keep a control so we can compare and contrast the areas. The next station takes a closer look.
Recommended Student Activity:
What paths would animals use to get to the water down there?
Usually valleys and lesser slopes.
Would this place be more or less important in winter?
More because there is less liquid precipitation in winter.