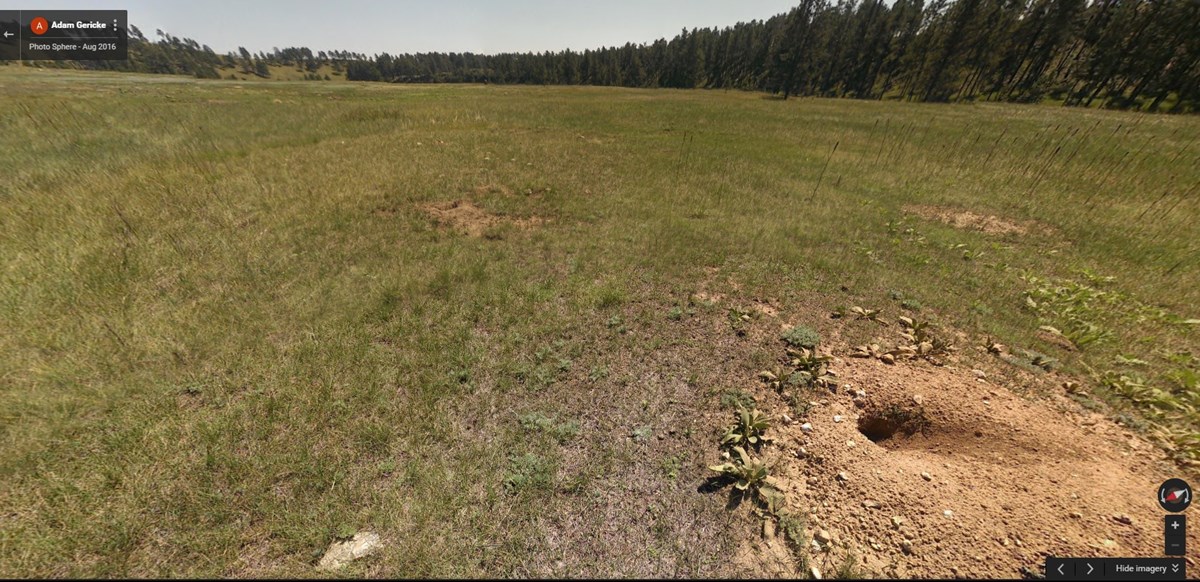 Area Description: Here we get a close up of a prairie dog hole at the edge of the town. Surrounded by higher vegetation these prairie dogs are bravely pushing into new territory.
Visible Vegetation:Common Mullein, Fringed Sagewort, Smooth Brome, Big Bluestem
Possible Animal Habitat:
Mammals: Bison, Prairie Dogs, Black-footed Ferrets, Elk, Badger,
Birds: Mourning Dove, Northern Flicker, Western Wood-peewee, Plumbeous Vireo, Black-capped Chickadee, House Wren, Mountain Bluebird, American Robin, Western Tanager, Spotted Towhee, Field Sparrow, Vesper Sparrow, Chipping Sparrow, Western Meadowlark, Brown-headed Cowbird, Brewer's Blackbird
Geology: There are not too many rocks show but the few outcroppings on the hillside to the north are Paha Sapa Limestone.
For Educators:
Thematic Information: Prairie dogs usually have two different entrances/exits to their homes. One is built higher to act as a lookout tower. Also due to the height differences between the holes whenever the wind blows a draft is created which brings fresh air down into the hole.
Prairie Dogs are also very vigilant animals. They are always looking out for danger and warning their fellow townmates. Through a combination of yips and barks prairie dogs communicate whenever danger approaches. Research is being done to distinguish between the different calls and what each one means.
Recommended Student Activity:
Read a book to further learn about prairie dogs. Selections include but aren't limited to:
Let's Look at Prairie Dogs (Lightning Bolt Books: Animal Close-Ups (Paperback))
by Christine Zuchora-Walaske
Prairie Dog Song
by Susan L. Roth, Cindy Trumbore
Watch a short video on prairie dogs:
https://www.youtube.com/watch?v=icaGIeOY9gc