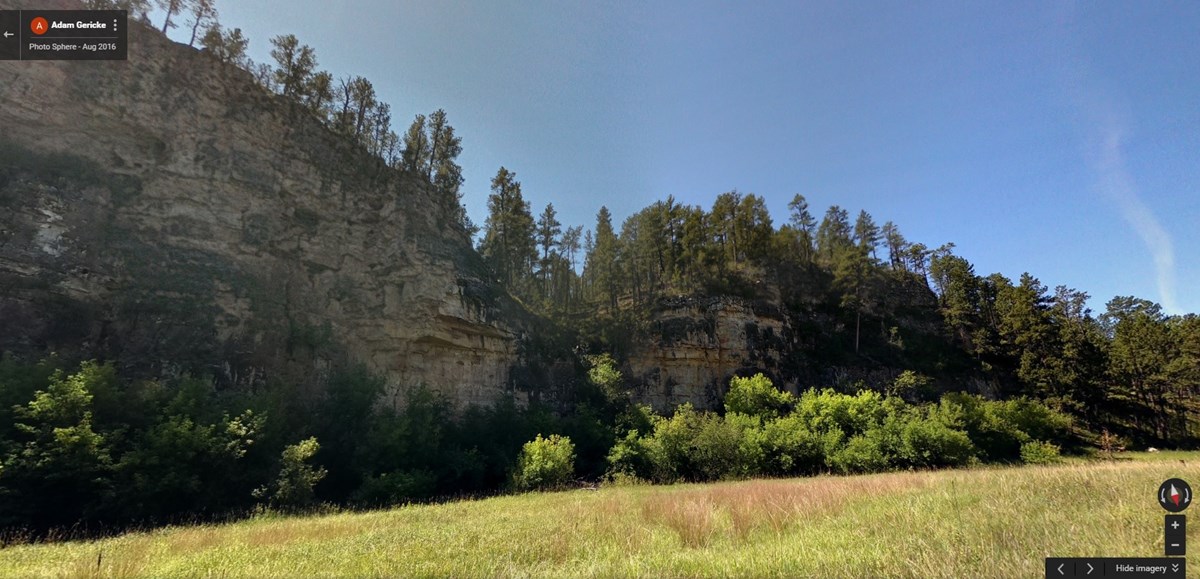 Area Description: These prominent cliffs soar above a peaceful, sunny prairie valley near the end of the trail. Golden eagles have called these cliffs home. Look high in the cliffs for evidence of their nests.
Visible Vegetation: Common Mullein, Box Elder, Cudweed Sagewort, Little Bluestem, Woolly Verbena, Current
Possible Animal Habitat:
Mammals: Bison, Prairie Dogs, Black-footed Ferrets, Elk, Badger, Skunk, Raccoon, Long-tailed Weasel, Coyote, Mountain Lion, Bobcat, Red Fox, Pronghorn
Birds: White-throated Swift, Western Wood-peewee, Cordilleran Flycatcher, Cliff Swallow, Violet-green Swallow, House Wren, Canyon Wren, Black-capped Chickadee, Yellow Warbler, Audubon's Warbler, Chipping Sparrow, White-winged Junco, Brown-headed Cowbird, American Goldfinch
Geology: These prominent cliffs overtake the skyline through this section of trail. As on the rest of this trail they are composed of Paha Sapa Limestone (Madison Formation). This is the same limestone that contains Wind Cave, though they are over 2.5 miles away.
For Educators:
Thematic Information: This area is a fine secluded grazing area for older bison with plenty of shelter and a nearby watering hole. The park contains around 400 bison. Normally, the older bulls remain apart from the herd, but during the rut (breeding season) at the end of July the entire herd comes together and the males compete for the females. Bison used to cover the Great Plains but were almost driven extinct in the late 1800s.
Recommended Student Activity:
Further discuss bison using a history of bison timeline.
Choose one of the animals that live in Wind Cave National Park and prepare a 5 minute presentation. Find three other photo spheres around the park where that animal would live.