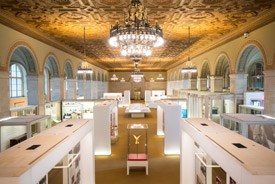 The White House Visitor Center, located at 1450 Pennsylvania Ave. NW, offers visitors a window into the president's iconic home. The visitor center is open from 7:30 a.m. until 4:00 p.m. daily (except January 1, Thanksgiving, and December 25). Admission is free.
Visitors can explore an interactive touchscreen tour of the White House, view over 90 artifacts from the White House collection, shop at the White House Historical Association retail store, and view the 14 minute film, "White House: Reflections From Within." Visit the information desk to inquire about special ranger programs and events at President's Park.

The exhibit areas feature approximately 100 historical artifacts, interpretive panels, looping videos of photos and archival footage, and interactive elements for visitors of all ages.