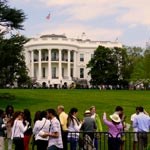 White House Garden Tour
The White House Grounds are the oldest continually maintained landscape in the United States. One weekend during the spring and fall the White House South Grounds are open to the public. Visitors have the opportunity to see the two formal gardens, the Rose Garden near the West Wing and the Jacqueline Kennedy Garden near the East Wing as well as the Kitchen Garden which was established in 2009. Along with the gardens visitors can view many of the ornamental trees planted by former presidents.
To attend the event visitors must obtain a free timed ticket which are distributed on the same day beginning at 8:30 am from an NPS tent located near the corner of Constitution Avenue and 15th Street NW.
Spring 2018 garden tours will be held on Saturday, April 14 from 10:00 am until 4:30 pm, and on Sunday, April 15 from 10:00 am until 2:30 pm.