National Christmas Tree
The tradition of the National Christmas Tree on the Ellipse began with President Calvin Coolidge over 90 years ago when he lit a 48 foot Balsam Fir from Vermont decorated with 2,500 electric bulbs in red, white, and green on Christmas Eve 1923. Today, the tree lighting remains a beloved holiday event in Washington, DC. Learn more about the
history of the National Christmas Tree
.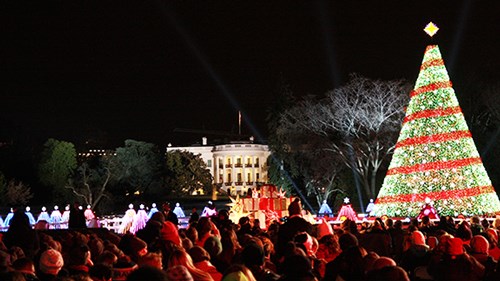 Watch the National Christmas Tree Lighting
When
The 2019 National Christmas Tree Lighting date has not been announce. Please check back.
Get Tickets to Attend
Tickets are required to attend this event and are awarded through an online lottery. The lottery for the 2019 ceremony will open in Fall 2019.
Watch the Show
Watch the 2018 National Christmas Tree Lighting Ceremony online!
Volunteer
Hundreds of volunteers give their time each year to support this event. Find out how you can get involved!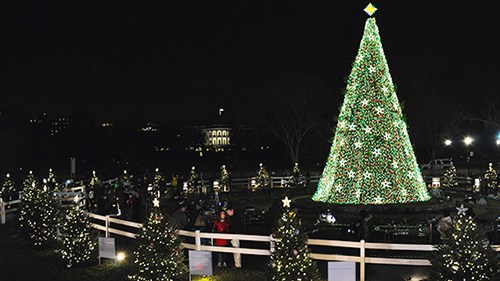 Pathway of Peace
How to Visit
The Pathway of Peace site is free to visit and open to the public, generally the day after the National Christmas Tree Lighting through January 1, 2020. Hours are 10:00am-10:00pm Sunday-Thursday, and 10:00am-11:00pm Friday and Saturday.
What to Expect
The walkway surrounding the National Christmas Tree features 56 state and territory trees decorated with hand made ornaments that are unique to each tree.
The National Christmas Tree lights turn on at approximately 4:30pm and turn off promptly at 10:00 pm Sunday-Thursday and 11:00 pm on Friday and Saturday.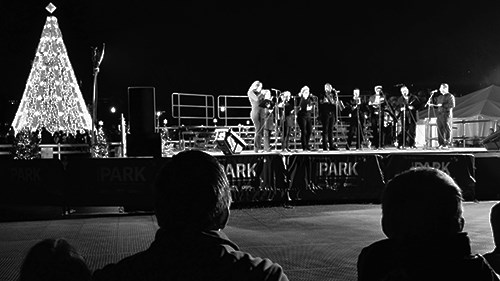 National Christmas Tree Music Program
Application to Perform
Please visit the music program webpage for application information.
Attend a Performance
Nightly music and dance performances take place on the Ellipse stage for 2 weeks in December. These 30 minute performances are free and open to the public. All performances are holiday themed and include local school groups, church choirs, dancers, Girl Scout troops, and even a Ukulele Orchestra.
Last updated: September 11, 2019