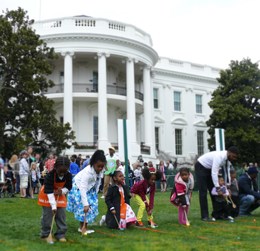 The is a popular event hosted by the
White House
. The South Lawn of the White House is filled with exciting activities for the whole family, including storytime with celebrities, games, live entertainment, and the traditional
Easter Egg Roll
.
Apply Through the Online Lottery to Attend
Event tickets are required and are distributed through a lottery. The
2017 White House Easter Egg Roll lottery
has closed for this year.
Commemorative Easter Eggs
Purchase White House Easter eggs
through the National Park Foundation, the official charity of the National Park Service.
History of the Egg Roll
In the 1870s, Capitol Hill had become a popular spot for children to roll eggs - and themselves - down the hill on Easter Monday. As the event grew more popular, the toll on the grounds was noticeable. In 1876, Congress passed a law forbidding the Capitol grounds to be used as a children's playground. In 1878, President Rutherford B. Hayes issued an order that if any children should come to the White House to roll their Easter eggs, they would be allowed to do so. The tradition has been carried on since, and has grown into the major event you can experience today.