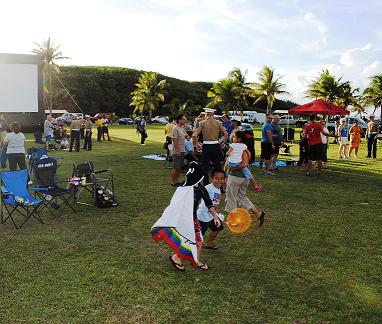 News Release Date:
November 8, 2010
Contact: Dan Brown, 671-333-4050
In honor of the service and sacrifices of veterans, national parks across the nation will waive entrance fees on Veterans Day, November 11, 2010.

On Veterans Day on Guam, War in the Pacific National Historical Park will host another popular "Movie in the Park" evening program.
The park will show an award-winning classic feature film about World War II. The film dramatically portrays events of the Pacific Theater and experiences of soldiers during the war. The film is not rated but due to scenes of warfare, parental guidance is suggested.

Prior to the feature movie, the park will show a short historic news film clip that includes battle footage of the Americans landing on Guam in 1944.

The public is invited to join us under the stars at Asan Beach on Thursday, November 11, at 6 p.m. to help us honor our veterans.
The public is encouraged to bring chairs, blankets, flashlights, umbrellas, and insect repellant.

For more information on the feature film and "Movies in the Park," contact park rangers at 671-333-4050.