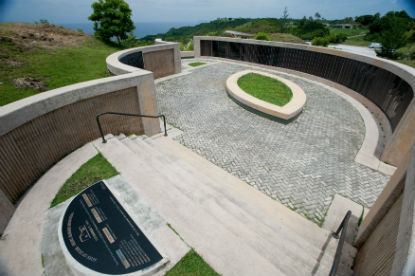 News Release Date:
April 10, 2014
Contact: Ben Hayes, 671-333-4051
On March 20, 2014, the
National Park Service (NPS) awarded a contract to Danes Construction Corporation of Guam
to Rehabilitate the Asan Bay Overlook Memorial Wall at War in the Pacific National Historical Park.  The work includes demolition and replacement of 56 existing bronze and 34 existing acrylic panels inscribed with the names of those who died or suffered during the occupation and Liberation of Guam with 103 new black granite panels inscribed with 17,771 names engraved (sandblasted) into the granite with painted lettering.  The NPS has also awarded a task order to GHD of Guam (project designer) to perform limited inspection services during construction.  
Construction activities will commence in late April with the goal of completing the work by
July 21
(Liberation Day). More information on planned construction work will be announced at a later date. 
According to Superintendent Jim Richardson, "We look forward to unveiling the new granite panels at the Asan Bay Overlook during the 70th Anniversary Liberation of Guam commemoration events. More importantly it is our honor to welcome Veterans and Chamorro survivors to the site once this work is completed."
Originally completed in 1994, the Asan Bay Overlook Memorial Wall was damaged by theft in 2007.  The renovation will add an additional 1,629 names to the wall.
– NPS –